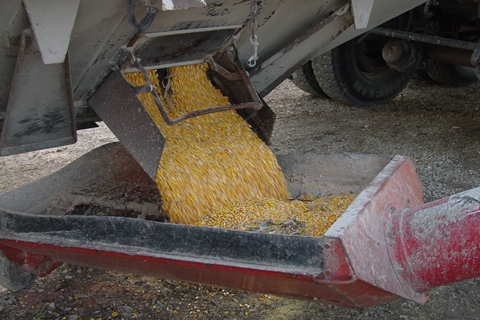 The prospect of record crops has prompted the Food and Agricultural Policy Research Institute (FAPRI) at the University of Missouri to lower average farm corn prices to $3.50 for 2014/15, soybean prices to $9.92/bu. and all wheat prices to $5.91. All are lower than FAPRI's August update of its annual March long-term baseline.

The prices are near the midpoint of price ranges reported in September in USDA's World Agricultural Supply and Demand Estimates. Meanwhile, FAPRI's long-term prices remain largely unchanged.



Keep in mind these are annual estimates and prices during the year might offer producers marketing options above breakeven, cautions Pat Westhoff, director, FAPRI. Corn prices, for instance, could be $1/bu. above or below these averages depending on how key variables play out, he notes. By 2015/16, corn prices are forecast to rise 30 cents to $3.80/bu. Prices average $4.10 from 2016 to 2018.
Corn Ending Stocks Peak in 2014/15
Total corn use is forecast to hold steady through 2015/16. Yet by 2018/19, use is forecast to reach 14.1 billion bushels, 518 million bushels higher than 2013/14. Export demand is forecast to rise 248 million bushels from 2013 to 2018, reaching 2.173 billion bushels. Meanwhile, FAPRI forecasts 2014/15 corn exports will fall 115 million bushels from the current marketing year despite corn prices below $4/bu. Feed and other domestic use will change little from 2013 to 2018.
Peak ending stocks will come in 2014/15, reaching nearly 2 billion bushels. Ending stocks will decline to 1.5 billion by 2018. Corn area harvested is forecast to decline from 83.8 million acres this year to 81.4 in 2015. Acreage then will rise to approach 2014 levels by 2018.

Although corn prices are forecast to bottom out in 2014/15, soybeans aren't expected to reach a low until 2015/16, when FAPRI projects a price of $9.04. That's down from $9.92 in 2014/15 and $13 in 2013/14. Soybean prices are expected to reach $10.32 by 2017 and $10.57 by 2018/19.
Soybean Exports Will Hold Steady
Total soybean use will change little over the forecast period. Even exports, which have increased sharply for years, will remain constant at about 1.7 billion bushels, FAPRI predicts. Harvested soybean acres are forecast to decline from 84.1 million in 2014/15 to 83 million acres in 2015/16. They will drop to 80.1 million by 2016/17. From there, acreage will rise to 81.3 million by 2018/19.

The soybean-corn price ratio, after reaching 2.92 in the current marketing year, is set to drop to 2.83 in 2014/15 and 2.38 in 2015/16. By 2018/19, the ratio will edge up to 2.50.
Wheat Prices Will Stay Below $6 to 2018
Wheat prices are forecast to decline from $6.87/bu. in the current marketing year to $5.91 for 2014/15. They will range between $5.42 and $5.93 during 2015-18, FAPRI projects. Ending wheat stocks will rise from 590 million bushels in the current marketing year to a peak of 720 million by 2015. After that, stocks will edge slightly lower. Wheat exports are about 1 billion bushels over the forecast period. Wheat harvested acreage is constant over the period at about 46 million.
Cotton Exports Climb to 11.24 Million Bales By 2018/19
Cotton harvested acreage is forecast to increase by 2.3 million acres to 9.88 million acres from 2013/14 to 2014/15. From 2015 to 2018, acreage will remain stable at about 8.75 million. Cotton exports will increase from 10.5 million bales in the current marketing year to 11.24 million by 2018/19. Farm prices are forecast to fall from 77.5 cents per pound in the current marketing year to 64.6 cents in 2014/15. They will be just under 61 cents in 2018/19.