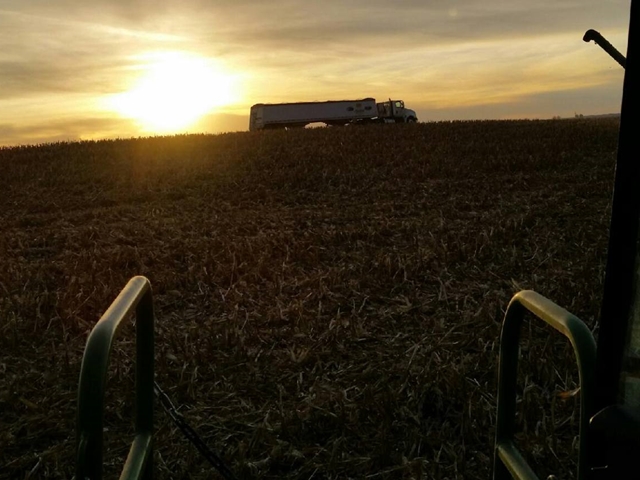 The corn price outlook is improving, although it still remains far below breakeven for most producers. Farm prices will average $3.50 per bushel for the 2014/15 marketing year, according to the November forecast update by the Food and Agricultural Policy Research Institute (FAPRI) at the University of Missouri. This is a slight increase from October, based on USDA's reduction of its estimate of this year's corn crop.
Reduced corn acreage and an assumed return to trend-line yields result in smaller projected corn supplies in 2015, FAPRI says. This allows corn prices to recover to $3.89 per bushel for the 2015/16 marketing year and to exceed $4 per bushel from 2016-18, the report says.
The 2014/15 soybean price outlook changes little, however, at $10 per bushel, but FAPRI forecasts prices to drop to $9.10 per bushel in 2015/16. This decline will result from soybean acreage staying near this year's level, causing large supplies. From 2016-18, soybean prices are forecast to average around $10 per bushel.
Projected wheat prices decline from $5.90 per bushel for 2014/15 to $5.36 in 2015/16 and remain below $6 per bushel through 2018.
For upland cotton, FAPRI's report shows a slight upward revision in 2014/15 prices, to 61.4 cents per pound. Projected prices remain near this level for 2014-18, far below the levels of 2010-13.
Looking at the six major crops—corn, soybeans, wheat, upland cotton, sorghum and rice—FAPRI looks for this year's 231.8 million harvested acres to decline by 3.1 million acres in 2015/16, and drop by another 1.3 million acres by 2016/17 before slowly a modest increase to 2018 but still remain below 2014 levels. For 2015/16, FAPRI forecasts a 2.3 million acre decline in harvested corn acres, no change for soybeans, a 500 million acre increase for wheat, a 1.2 million acre decline in cotton acres, and a slight  decrease in both sorghum and rice harvested acreage.
"All things being equal, lower prices do have a least a small impact on the total amount of land used for crop production," says Pat Westhoff, FAPRI director. In economically marginal regions, some acres that might be used to produce field crops are instead used for forage, fallowed or devoted to other uses, he says.
Westhoff also notes that while acreage in 2015 and beyond is lower than in 2014, it's also more than in 2013. "We had better than normal planting weather in 2014, so just returning to more normal weather might cause a slightly reduction relative to 2014."