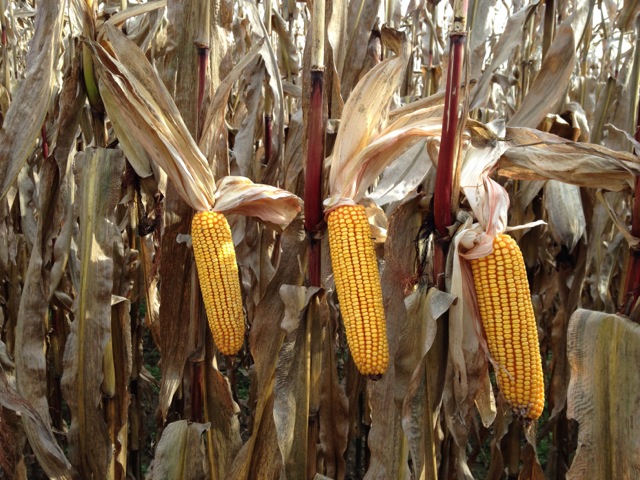 U.S. average farm corn prices are expected to be $3.40/bu. for the 2014/15 marketing year, according to the Oct. 16 price update report from the Food and Agricultural Policy Research Institute (FAPRI) at the University of Missouri. This is 10 cents lower than FAPRI's September forecast, due to USDA's Oct. 10 reports that call for a larger 2014 corn crop than estimated a month earlier and larger carry-in stocks.
FAPRI sees 2015/16 corn prices increasing to $3.74/bu. and recovering to $4.20 by 2018/19. Corn acreage could decline in 2015 and more typical growing conditions would result in lower yields.
FAPRI's soybean price estimates change little for 2014/15 at $9.95/bu. USDA's soybean production estimates increased slightly, but this was offset by a reduction in carry-in stocks, leaving total supplies marginally reduced from September estimates. However, FAPRI looks for lower 2015/16 soybean prices of $8.93/bu. "Soybean acreage could stay near this year's record in 2015," FAPRI says, causing the more bearish 2015/16 outlook. FAPRI expects soybean prices to recover to $10.50/bu. by 2018/19. 
The wheat outlook also is largely unchanged from September. Projected wheat prices decline from an expected $5.88/bu. for 2014/15 to $5.39 for 2015/16 before recovering to $5.97/bu. by 2018/19, FAPRI says.
In line with October USDA estimates, the projected season-average price for upland cotton in 2014/15 is reduced to 60 cents per pound. One main driver is weaker export demand from China. Projected average cotton levels remain near the 60-cent level from 2015-18, FAPRI says.
These estimates are part of a joint project with Texas A&M University to develop web-based decision aids for producers who must make one-time elections for either Agriculture Risk Coverage (ARC) or Price Loss Coverage (PLC) for the life of the 2014 farm bill. Different expectations about crop prices will lead to different expectations about future payments under the program. While early-on it appeared that for corn, ARC was the clear winner for many producers, it's now a close call with PLC. That's because corn prices have fallen sharply in recent months.