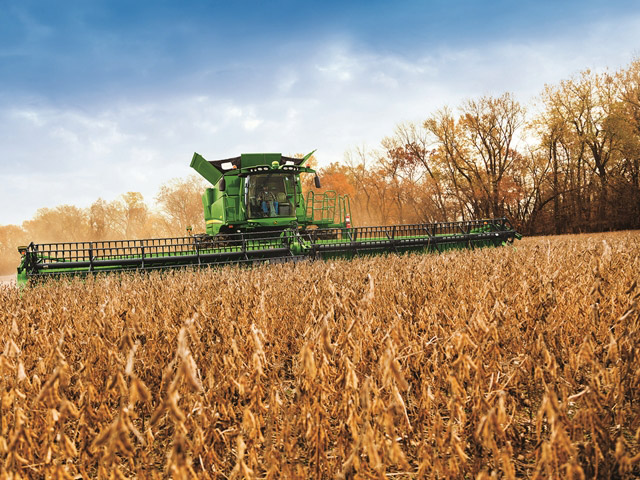 USDA took a conservative stance in its latest crop production estimates, which were fairly neutral for both corn and soybeans, but the department's yield and carryout estimates were likely low, says Peter Georgantones of Roy E. Abbott Futures in Minneapolis. Georgantones was the commentator on a post-report MGEX press call.
Looking at corn first, USDA's WASDE report, released Friday, Oct. 10, shows that corn production is now forecast to reach a record 14.5 billion bushels, up less than 1% from the previous forecast and 4% larger than 2013 production. USDA's estimate was just shy of the average trade forecast of 14.506 billion bushels.
USDA also pegged the average corn yield as of October 1 at 174.2 bu. per acre, up 2.5 bu. from its September forecast and 15.4 bu. above the actual 2013 average yield. USDA's estimate was slightly lower than the average trade estimate of 174.7 bu. per acre. If realized, USDA's yield forecast would be record large. USDA lowered its estimate for area harvested for grain to 83.1 million acres, down 1% from the September forecast and 5% lower than last year's harvested acreage.
"I think USDA's 174 yield estimate is conservative," says Georgantones. "I think it is probably closer to 176 bu., which means production could rally by a couple hundred million bushels. We are hearing there is a lot of variability in the corn yield." Even so, Georgantones thinks that corn prices have already bottomed.
"I would not be selling corn here," he says. "The world will be planting soybeans next year at the expense of corn."
USDA raised its forecast for corn ending stocks by 79 million bushels to 2.081 billion. USDA also lowered its projected range for the season-average farm price for corn by 10 cents on both side of the range to $3.10 to $3.70 per bu.
Phenomenal Bean Yields
USDA put soybean production at a record 3.93 billion bushels, which was slightly higher than its September estimate and 17% larger than last year's crop but slightly lower than the average trade estimate of 3.976 billion bushels. Based on Oct. 1 conditions, USDA pegs the average soybean yield at a record high 47.1 bu. per acre, up 0.5 bu. from last month and 3.1 bu. from last year. The average trade estimate was slightly larger than USDA's at 47.6 bu. per acre.
"I think the bean yield will be closer to 49.1 bu. per acre," Georgantones says. "No one is buying the bean yield. We are hearing of phenomenal yields—absolutely unheard of yields in beans."
Harvested acreage forecast at a record 83.4 million acres was 1% lower than September's estimate but 9% larger than last year. USDA's harvested acreage estimate was also under the average trade forecast of 83.621 million acres.
USDA puts soybean ending stocks at a projected 450 million bushels, down 25 million bushels from last month's estimate, but substantially lower than the average trade estimate of 472 million bushels. However, the department left prices for soybeans unchanged.
"There's big demand for soybeans priced into these numbers," says Georgantones. "A 450-million-bushel carryout equates to $8.50 to $9 beans, but I think the carryout will be closer to 550 millions when all is said and done and prices will be closer to $8.25 to $8.50."