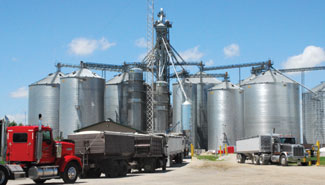 In late September, corn prices at two North Dakota grain elevators dropped to levels farmers thought they'd never see again: $1.73 at one facility and $1.81 at another. A wide basis—more than $1.50 per bushel below futures quotes at some locations—is driving the low corn prices.
That puts new crop corn prices below variable costs for North Dakota corn producers. Soybean prices have also tumbled far below breakeven to just over $8 per bushel.

The wide basis in North Dakota is caused by an interplay of several factors. Key among them is that some 
elevators are dealing with large quantities of small grains and corn. As a result, elevators are wrestling with two choices, says Frayne Olson, ag economist at North Dakota State University: cap how much corn they buy or store for farmers, or accept all corn, which forces them to widen basis. The above bids reflect the latter.

An additional challenge is that North Dakota has increased corn production more than any other state in the past decade. "Replacing 60-bu. wheat with 120-bu. corn doubles the grain volume," he says.

On-farm and commercial storage has increased to largely match growth, but when all the pieces to the storage puzzle aren't in alignment, the system can be stressed, Olson adds.
A big piece to the storage puzzle in North Dakota is how long harvest lasts. This year's wheat harvest took a while, allowing elevators and rail carriers to avoid major back-up. If corn harvest is similar, the system will be better able to deal with it, Olson says. 

But if the harvest window is tight, storage problems will be more severe. What's good for farmers—a warm, dry fall—is not necessarily good for the storage system, he adds.

The math on storage capacity versus harvest doesn't tell the entire story, either, Olson says.

"The challenge in North Dakota is the wide range in barley, spring wheat and durum quality," he says. Farmers don't put high and low protein wheat in the same bin because of the huge difference in premiums and discounts,  Olson adds. 

Because of that, a lot of grain bins will be half full, further pressuring the storage system for all crops. 
Another issue factoring into the equation is transportation. In North Dakota, the railroad is the preferred mode for grain transportation. While the Burlington Northern Santa Fe is largely caught up from earlier delays, it remains to be seen whether harvest pressures will allow timely rail service, or if it will be a repeat of this past year. 

While storage issues and accompanying wide basis are most severe in North Dakota, it's a national problem. As storage in the northern and western fringes of the Corn Belt starts to fill up, grain produced in those regions will need to find a home elsewhere, such as in Iowa, where there is more capacity and narrower basis, says Chad Hart, ag economist at Iowa State University. But once storage is maxed out there, basis in the I-States will widen too. 

It's not only the massive 2014 crop that's causing trouble. "I'm amazed at how much old crop [2013] is still out there," Hart adds.

He predicts the storage and basis problem will recede post-harvest when corn starts to move to end users. At current bids, though, farmers won't sell much, if any, before spring unless they have to.