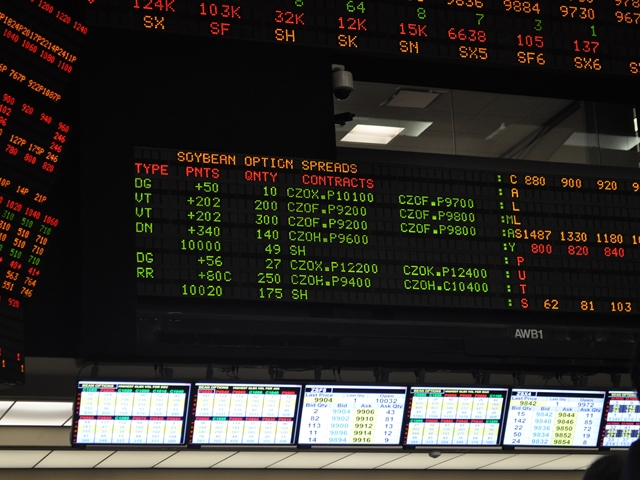 Corn and soybeans slid for a second session in Chicago on speculation dry weather will help advance harvesting in the U.S., the world's top producer of the crops.
There are no significant harvest concerns in the U.S. Midwest in the next seven days, with mostly dry conditions this week, DTN said in a report today. The nation's farmers will collect record corn and soybean crops this year, the U.S. Department of Agriculture predicts.
"With the weather being forecast to be better this week, we are likely to see harvests resume unimpeded, and at a pretty fast pace as well," Graydon Chong, an analyst at Rabobank International, said by telephone from Sydney. "We're approaching the halfway mark for corn and soybean harvesting in the U.S., so we're getting a little bit more certainty about the size of the crop."
Corn for December delivery fell 0.6 percent to $3.5075 a bushel on the Chicago Board of Trade before a pause in trading at 7:45 a.m. Futures climbed for a fourth week in the period ended Oct. 24, the longest rally in seven months.
About 53 percent of soybeans were collected as of Oct. 19 and 31 percent of corn, trailing respective five-year averages of 66 percent and 53 percent, USDA data show. The USDA is scheduled to update its weekly crop progress report today.
Soybeans for January delivery dropped 0.8 percent to $9.755 a bushel. The oilseed also had a fourth weekly advance last week, the longest streak since last year.
Wheat for December delivery fell 0.4 percent to $5.1575 a bushel. Milling wheat for November delivery traded on Euronext in Paris retreated 0.5 percent to 165.50 euros ($209.83) a metric ton.