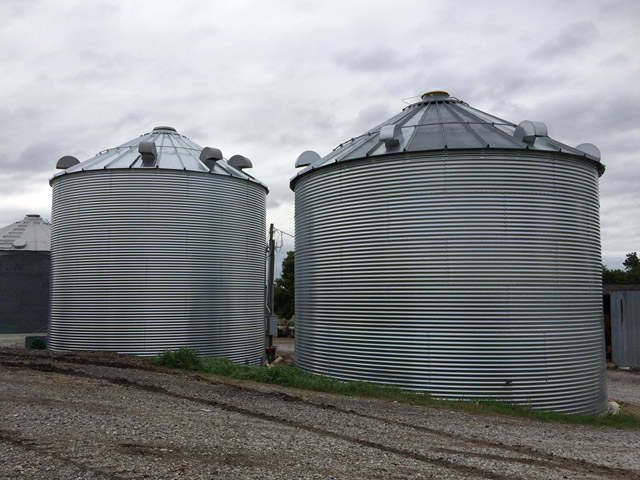 The corn-crop estimate USDA published in August is nearly 1 billion bushels smaller than last year's record crop, but it is 300 million bushels more than the market anticipated. Those extra bushels mean the corn
market has a lot of cushion to work with even if the crop estimate declines from USDA's initial forecast.
The beginning stocks increase of 633 million bushels—a 36.4% year-over-year increase—adds even more cushion on the supply side of the 2017/18 balance sheet. Therefore, total supplies in the new-crop marketing year are projected to be down just 367 million bushels, or 2.2%, despite the estimated 6.6% decline in crop size.
USDA projects a decline in total corn use of 270 million bushels, or 1.9%, for the 2017/18 marketing year. Modest growth is projected for feed and residual use. Increasing animal units will raise the feed component, but a smaller crop will reduce residual use. A 1.2% increase is also projected for food, seed and industrial use, with the ethanol grind forecast to rise 0.9%.
Exports Lag. The hit to corn demand will come from exports. U.S. corn exports are forecast to plunge 375 million bushels, or 16.9%, during 2017/18 amid increased competition from Brazil and Argentina. Based on the sales pace through early August, corn exports have ground to make up. New-crop outstanding sales are running 44.1% behind year-ago and 34.5% behind the five-year average. If export demand slows at all during the first half of the new-crop marketing year, USDA might have to downwardly revise its already reduced export forecast.
With use forecast to decline less than total supplies, corn carryover is projected to tighten. But new-crop ending stocks at 2.27 billion bushels as of the August crop report are still very comfortable. Nearly 500 million bushels would have to be shaved off that figure through a smaller crop estimate, increased demand or both to pull corn carryover down from what the market considers to be plentiful. And ending stocks would need to drop nearly 800 million bushels before they would be considered borderline tight.
Soybeans Swell. The Aug. 1 soybean estimate from USDA is 170 million bushels higher than anticipated and 74 million bushels above last year's record crop. That pushed projected total supplies for the 2017/18 marketing year up 249 million bushels, or 5.5%, from last year to nearly 4.8 billion bushels. Although global soybean demand driven by China continues to grow, that's a lot of soybeans the market must chew through.

New-crop soybean use is projected to rise 3.4% amid more crushing and stronger exports. But both face some challenges that will prevent too much demand growth. The challenge for crush is whether meal demand is strong enough to support crush margins and to keep supplies from backing up. USDA is already projecting crush to be record large and up 50 million bushels from the 2016/17 marketing year. Meanwhile, soybean exports face stiff competition from South America. USDA has built in a soybean export increase of 75 million bushels year over year, but that's based primarily on bigger supplies and the anticipated drop in prices.
Prices Stall. USDA is only projecting a 20¢ drop in the average soybean price for 2017/18. Brazil is expected to continue exporting soybeans when new-crop U.S. supplies hit the market. Soybean exports from Argentina are likely to pick up because the country's export taxes are scheduled to drop five percentage
points in 2018. It might be difficult for the U.S. to find enough business to meet the projected 3.5% growth in exports.
The result of growth in total supplies outpacing the projected uptick in demand is another rise in carryover. At 475 million bushels, new-crop soybean carryover is projected to rise 105 million bushels, or 28.3%, from the 2016/17 marketing year. That's well above the comfortable level, which will limit the market's ability to sustain a price recovery. In fact, soybean ending stocks would need to be cut virtually in half from projected
levels before the market would get concerned with supplies being close to tight.
USDA's numbers over the past 20 years signal there's nearly an even chance of the corn crop rising or falling from its initial August estimate. During that 20-year span, USDA's August estimate has been below the final crop peg nine years and above the final estimate 11 years. The average miss on its August crop estimate has been 286 million bushels. The smallest deviation from the August figure to its final figure was 5 million bushels, and the largest variance was 940 million bushels.
Accuracy Assessment. In the case of soybeans, USDA's August crop estimate in the past 20 years has been below its final figure in 13 years and above in seven years. That suggests there's a two-thirds chance USDA's August crop estimate was not the highest the market will see this year.
Over the past 20 years, USDA's smallest miss was 6 million bushels, while the largest difference between the August figure and the final number was 408 million bushels.