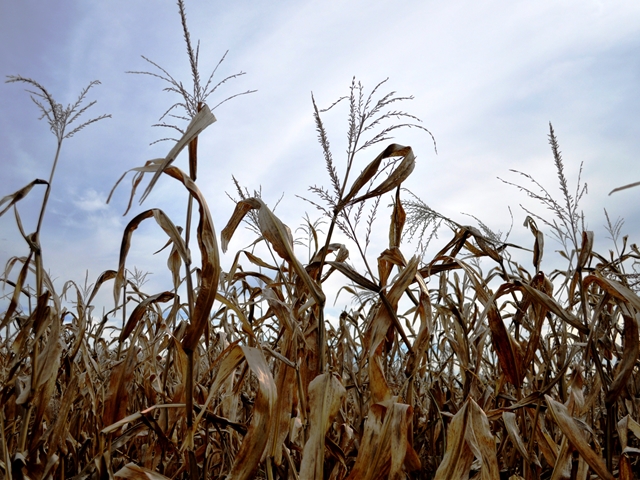 Morgan Stanley reduced its price forecasts for corn, soybeans and wheat because global surpluses are larger than expected and said rates will probably fall to a level that may curb supplies in high-cost producers like Brazil.
The bank cut its estimate for corn to $3.90 a bushel in 2014-2015 from $4.35 in October and for soybeans to $9 a bushel from $10.10, according to analysts Bennett Meier and Lee Jackson. Wheat was lowered to $5.40 a bushel from $5.75. The latest forecasts were issued in a report dated yesterday.
Corn slumped 13 percent this year and soybeans fell 19 percent amid prospects for record harvests in the U.S., the world's biggest grower. Wheat lost 15 percent as global production climbed to the highest ever, according to the U.S. Department of Agriculture. World grain reserves will reach a 15- year high and weigh on wheat and corn prices, according to Abdolreza Abbassian, senior economist at the United Nations' Food & Agriculture Organization.
"We continue to favor corn over soybeans and wheat on a relative basis, although we remain neutral to bearish on the space in absolute terms," the New York-based analysts wrote. "We now envision prices falling to a level that results in faster supply rationalization in high-cost producers."
Corn traded at $3.66 today on the Chicago Board of Trade, while soybeans were at $10.3925 and wheat was at $5.15.
Goldman Sachs Group Inc. expects wheat to decline to $4.50 within as few as three months, saying in a report on Sept. 30 that grain and oilseed prices need to fall near the cost of production to discourage farmers from planting more. The bank predicts corn at $3 and soybeans at $8 in the same period.
USDA Estimates
Morgan Stanley forecast a "modest recovery" in its first estimates for 2015-2016, with corn at $4.25, soybeans at $9.50 and wheat at $5.50. "It will not be until the 2017-18 marketing year that global acreage will once again need to expand to keep global corn, soy and wheat stocks from falling below normal levels," the analysts said.
U.S. farmers may harvest 3.969 billion bushels of soybeans and 14.556 billion bushels of corn this year, topping estimates by the USDA for 3.927 billion bushels and 14.475 billion, according to a Bloomberg survey. The USDA is set to update its projections in Washington today. Global wheat output will reach a record 722.6 million metric tons, the Food and Agriculture Organization estimates, raising its forecast 4.1 million tons.