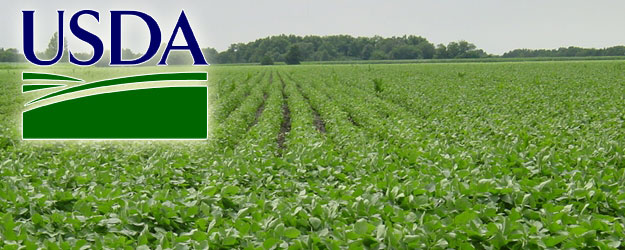 USDA's long-awaited Prospective Plantings report, released March 31, was in line with expectations, for the most part, with producers intending to plant more soybean and cotton acres than last year and fewer corn acres. In fact, this year's planting intentions put soybean acreage at a record high and corn acreage at its lowest level since 2010.
Combined corn and soybean acreage climbed to 171.9 million acres, which was 1.3 million more than last year, lower than the 4 million to 5 million that some analysts had expected.
Planting intentions for the 2014 corn crop were released at 91.7 million acres, down 4 percent from last year and more than 1 million fewer acres than expected. If realized, USDA says, it would represent the lowest planted acreage in the United States in five years, but it would still be the fifth largest U.S. corn acreage since 1944.
Analysts had been expecting corn planting intentions of 92.748 million acres, with a range of estimates between 90.5 million and 94 million. Last year's planted acreage for corn was 95.365 million acres.
"Iowa will plant more corn. The other states in the guts of the Corn Belt will plant just slightly less, while the fringe states slipped away from corn," says Mike Krueger, president of the Money Farm in Fargo, N.D. Krueger was the analyst on a post-report conference call hosted by MGEX in Minneapolis.
"The focus will turn to weather and the potential for yields," says Krueger. "The yields (more so than acreage) will make the difference in the end."
With this year's winter persistently holding on particularly in across the heartland and in eastern United States, early corn planting is not going to happen, he adds.
Big Bump in Beans
Intentions for soybean planted area were estimated at a record-high 81.5 million acres, up 6 percent from last year. Compared with last year, planted acreage intentions are up or unchanged across every state except Missouri and Oklahoma.
Analysts were expecting planting intentions for soybeans to come in at 81.075 million acres, with a range of estimates of 78.5 million to 83.6 million. Last year, producers planted only 76.533 million acres of soybeans.
All wheat planted area is estimated at 55.8 million acres, down 1 percent from 2013, and cotton plantings are expected to total 11.1 million acres, 7 percent more than last year.
Following release of the report, both corn and soybean futures reversed course to trade well off their morning lows.