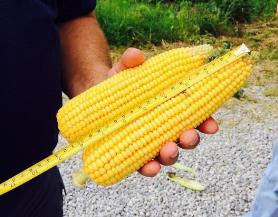 Corn futures rose in Chicago on speculation that yields will be in line with government estimates in the U.S., the world's biggest grower.
Yields in eastern Iowa and southern Minnesota have fallen from 2013, preliminary samples taken today on the 2014 Pro Farmer Midwest Crop Tour. National yields probably won't top 170 bushels an acre, within market expectations, Societe Generale analyst Christopher Narayanan said yesterday on the tour. The U.S. Department of Agriculture estimated yields at 167.4 on Aug. 12.
"The big question I think is whether or not the crop is appreciably bigger than the USDA forecast last week," Bryce Knorr, a Chicago-based senior grain market analyst for Farm Futures magazine, said in a telephone interview. "The dry area of eastern Iowa hasn't picked up any rain out of this week's storms. We really have just gotten stuck in a consolidation pattern."
Corn futures for December delivery rose 0.4 percent to close at $3.69 a bushel at 1:15 p.m. on the Chicago Board of Trade. Trading was 12 percent above the 100-day average for this time of day, data compiled by Bloomberg show.
Iowa was the largest U.S. producing state last year, while Minnesota was fourth, USDA data show.
Soybean futures for November delivery rose less than 0.1 percent to $10.3825 a bushel.
Wheat futures for December delivery climbed 1 percent to $5.555 a bushel.