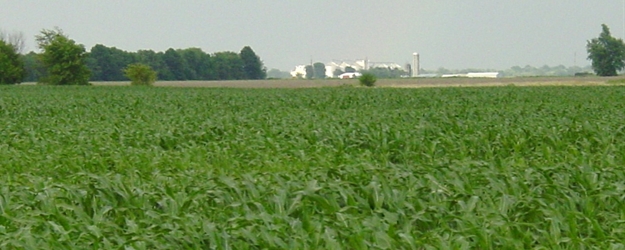 Companies invest in hybrids made for Canada 
So where is corn acreage expanding the fastest in North America? If you guessed North Dakota, you're not quite right but moving in the right direction. Hint: You'll need your passport. A growing number of Canadian farmers are ramping up corn production, but the real growth is still five to 10 years out. First, seed companies are spending big bucks to get corn maturity dates below 70 days. 

"Five years ago I planted 300 acres of corn. Now it's nearly 600 acres, and in five years I could double it again," says Myron Krahn, a Carman, Manitoba, farmer who also raises soybeans, wheat and oats. "Corn has more risk here, but the greater the risk, the greater the reward." Krahn, like thousands of other producers, is scaling down small grain production and increasing his corn and soybean acreage. 

Although Ontario is home to more than half of Canada's corn production, the newest action is in two of the prairie provinces. Leading the charge are Manitoba, where corn acreage has doubled to 380,000 in just two years, and Alberta, which grows almost 25,000 acres of corn. Between 2011 and 2013, corn acreage for all of Canada was up a modest 15% to 3.7 million acres because the two eastern provinces that lead Canadian corn output, Ontario and Quebec, have been growing corn for a long time.

In terms of yields, Manitoba is right on par with the Red River Valley region in North Dakota and Minnesota with a 140 bu. to 150 bu. per acre average. 

Admittedly, 3.689 million acres doesn't sound like much. That number is right at what Missouri farmers grow and less than what Ohio, the No. 7 state in U.S. corn production, raises. So what's all the fuss about Canadian corn production? The growth potential is promising based on the combination of hybrids under development and the potential for a longer growing season due to climate change. 

Companies invest in earlier maturing hybrids. Behind farmers, leading the corn charge are significant investments by a number of seed companies. For example, in 2013, Monsanto announced a $100 million research, testing and field staff investment for earlier maturing hybrids for Canada.  

"We think corn acreage in western Canada could grow to 8 million to 10 million acres in 10 to 15 years," says Dan Wright, trait launch lead for Monsanto Canada. 

That would represent a staggering 2,400% increase from 2013's 400,000 acres in western Canada and place total Canadian corn acreage just below that of Illinois. 

"Because of new market opportunities in western Canada, we have a lot of breeding efforts underway specific to that region and some shorter maturing hybrids might be introduced as early as 2015," says Steven King, DuPont Pioneer research director for Canada.  

Hybrids are a major driver, but the velocity of corn acreage growth in both the far northern U.S. and CFor a complete breakdown of corn production in Canada, visitanada probably wouldn't have happened without $6 to $7 per bushel corn prices.

It's not a singular vertical line up, though. Canadian corn acreage this year, for example, is projected to drop 7% to 10% from 2013's peak, compared to a 4% decline in the U.S. But seed companies remain bullish long term based on their firm beliefs that betting on new hybrids with earlier maturity dates will pay off. 

"We need to take 72- to 74-day hybrids and early them up, down to 68 [days]," says Steve Denys, vice president, sales and marketing for Pride Seeds, a Canadian seed company that's part of AgReliant Genetics. He thinks it's quite possible for western Canada to grow up to 5 million acres of corn within 15 to 20 years.  

In his view, a 68-day hybrid with average yields of 110 bu. to 120 bu. per acre will compare quite favorably with competitive and historical crops. Such hybrids might be no more than five to 10 years away, Denys adds. He acknowledges that it's more than just the science of genetics as corn must compete economically with prices for other crops.

Fifteen years ago, western Canadian yields were a mere 80 bu. to 100 bu. per acre and 110 bu. as recently as five years ago. The uptick in yields illustrates how quickly seed companies have been able to match maturity dates to the harsher growing environment. 

Corn yields also are going up faster than soybeans or small grains, a trend that gives corn a competitive edge. Although new corn production outside U.S. borders can be viewed as new competition, Denys believes U.S. farmers, too, will benefit from seed company investments in Canada. 

"These new hybrids will benefit growers in the northern U.S., in particular northern North Dakota and parts of Montana," he says. 

Not all see shorter maturing hybrids as automatic. Creating earlier maturing hybrids is more complicated than just making them flower earlier, says Elizabeth Lee, plant breeder and geneticist at the University of Guelph. "Corn production equipment is also a big issue," she says. 

Ripple effect grows. Canadian farmers are increasing their corn equipment purchases, but so far it's more used than new equipment, says Tyler Billay, western Canada territory manager for Horsch. Farmers are starting with smaller corn acreages to experiment with, so for many, it's easier to justify $100,000 for a used planter than $270,000 for a new one, he says. 

"We've seen an increase in corn equipment sales in Canada the past four to five years and expect that trend to continue," says Mark Hooper, director of marketing for New Holland. 

Agronomic factors are different in Canada because of crop rotations that include canola and small grains, says Yvonne Lawley, a corn researcher at the University of Manitoba. "Because the growing season is shorter—first frost is often late September—crop residue does not break down like it does in the heart of the Corn Belt. "Residue management is a more complex issue," acknowledges Teresa Bergsma, executive director of the Manitoba Corn Growers Association. 

It's no secret that corn price peaks have encouraged western Canadian growers to take the corn plunge. So will $4 to $5 corn force them to back off? Growth will still happen, though its pace might slow, says Manitoba producer Krahn. The key reason is: lower costs. Farmland rents in Manitoba for corn that's been yielding 140 bu. per acre run about $100 per acre or $4,000 to $5,000 to buy it. 

"I need about $4 per bushel to break even," he says. 

Still, Krahn says he's learned one important lesson about growing corn in the far north the hard way: "I've learned not to plant any later than May 31. Some of my biggest mistakes have been planting too late."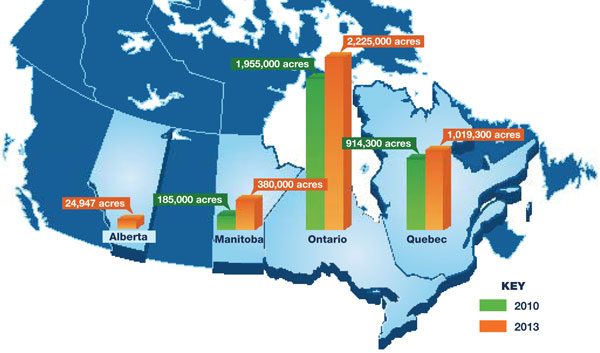 Corn by the Numbers 
In 2013, Canadian corn production totaled 3.689 million acres. While Ontario grows more than half of the corn acres, the crop is gaining ground, literally, to the west at the expense of small grains. Shorter season hybrids are expected to add several more million acres.
---