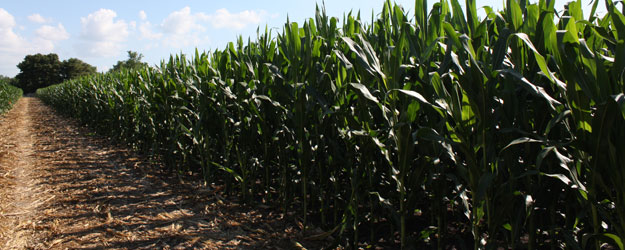 The 2013 corn crop was planted later than normal, with over 30% of the crop planted after May 15 and a significant number of acres in Iowa planted after June 1, if at all. This creates a number of challenges for U.S. corn production that may not necessarily be fully be accounted for in the highly subjective weekly crop condition ratings, such as nitrogen loss, shallow root development etc.

News services like to compare from conditions from the previous year. When you compare any crop ratings against 2012, they are going to look good. This week's corn condition rating stood at 63% good to excellent. This rating compares to similar ratings in 2007 and 2011 in which the final U.S. corn yield was 151 and 147 bu. per acre respectively. This is versus the current USDA estimate of 156.5 bu. per acre.

The USDA left planted acreage largely unchanged in its June report. This was a farmer-reported survey that had its collection period as May 30 to June 16, still at a time when producers had every expectation or hope of getting their projected corn acres in the ground. Perhaps of greater concern is where these acres were planted. As an example, in June the USDA reported that there would be 200,000 acres less corn planted in Iowa and 200,000 acres more planted in Nebraska. In this case, it's likely that highly productive ground in the nation's leading corn-producing state was replaced with dry land and/or converted pasture acres in Nebraska.

The shifting of corn from high yielding acres to lower yielding acres further creates a yield drag on the national average. Due to last year's poor crop conditions, the USDA made aggressive summer adjustments to yield in their balance sheets. No major change is expected next month's yield estimate however; a year ago the USDA did slash their harvested acres in the August supply and demand report. Although not comparing last year's drought to this year's conditions, it is an area in which the USDA may utilize to account for lower corn acres next month.

These are all factors that could lead to a lower corn production figure down the road. And this is all before any discussion of a potential early end to the growing season, that bulls are reluctant to discuss at the risk of appearing desperate. However, we are likely just a few short weeks away from some weather service raising that concern. The question will be from what price level a frost rally might begin.

I am not trying to beat the drum for the bulls, just trying to point out that at times markets can become shortsighted and traders and analysts feed on bearish news on the way down just as they feed on the bullish news on the way up. We have used the recent price weakness to step aside on some hedge protection, with the expectation of being able to re-establish at higher levels just before or just after the August production report. Remaining flexible is still important in these markets. It just may not be necessary for the bulls to throw in the towel just yet.

Click to view larger image.