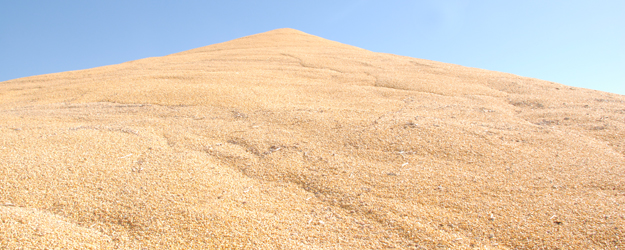 Just in time for the end of 2011, weekly corn export sales surged.
Net export sales in the week ended Dec. 15 climbed 42% from the previous week to their highest level since the week ended Oct. 13. Exports were up 47% to a new high for this marketing year, reported USDA.
"I think the reason they're a little better than they have been is the price came down a couple of weeks ago, and buyers felt it was a value," said Lynn Smith, a broker with the Zaner Group of Chicago. Dry weather in parts of South America might curb yields, so buyers want to cover some of their needs.
How long South American weather supports export demand and U.S. prices depends on weather developments, said Smith.
Mark Brusberg, climatologist with the USDA's World Agricultural Outlook Board (WAOB), said that as of Dec. 21 several corn-growing areas of Argentina have stayed hot and dry.
"The last few days have been very hot," said Brusberg. "The forecast did call for some showers, but the overall patterns in the past couple of weeks are depicting a drier than normal trend, and the past couple of days have been very hot in Argentina."
The hot, dry weather has hit Argentine areas where corn is pollinating, says Brusberg. Weather models indicated continued hot, dry weather for a week and then possibilities for showers in the week ending Jan. 7.
"This is what you would expect with La Nina," said Brusberg. Forecasts sometimes change quickly, but the odds suggest reduced corn yields in Argentina. When he looked at yield trends related to La Nina in Brazil and Argentina, "The strongest signal was with Argentina's corn. Most of the La Nina years we looked at, they did have downward pressure on corn yields."
While Argentine weather risks and recently lower corn prices encouraged buyers, longer-term demand prospects may support corn prices.
Demand 'Holding Up Well'
"Global demand is holding up very well," said Smith. "Others thought it might be less, but I thought we were going to have better than expected demand. China is not going to step back. They will have increased needs for corn because of livestock expansion."
Jerry Norton, WAOB grain specialist, said hat even though U.S. corn exports are off the pace of some recent years because of the short 2011crop, "We still have a fairly strong export program" and sales are on track to meet projected exports of 1.6 billion bushels.
Accumulated corn exports for 2011-12 as of Dec. 8 trailed shipments by a similar date in the prior three years and were far below the high reached by early December of 2007. Export sales had reached a recent low in early November but climbed by the end of the month.
Tim Hannagan, analyst at PFGBest, advised readers Dec. 15 about the increase in export inspections and prospects for more sales.
"The report (of increased export inspections) and market strength come as the trade feels China could suddenly enter as a corn buyer on the recent drought-like weather pattern in Argentina," wrote Hannagan.
He said forecasts for a drier and hotter than normal January in Argentina added to export inspections. "But the market now figures a continuation of this pattern would lead to China entering and overbooking corn from the U.S. as a weather hedge."
U.S. Share Down
The U.S. share of global corn exports has fallen in the past five years from 62 percent to 44 percent.
"That's mainly a function of the tight supply situation in the United States, and a function of large supplies of feed-quality wheat in the world, which is replacing corn," said Norton. Those grain supplies are priced competitively against U.S. corn.
World wheat stocks have recovered sharply from 2007, while "we've continue to grind down world corn stocks," said Norton. This will be third straight year of tight corn stocks.
As for prime export market signals to monitor, said Norton, "Watch the weather in South America."
....................................................
Editor's Note: Here at AgWeb.com, we tried to identify what stories in 2011 will continue be top of mind in 2012. You'll see one of these stories each week day until Jan. 3. Send any thoughts or comments on the stories to
editors@agweb.com
.
Here are the other top stories:
---