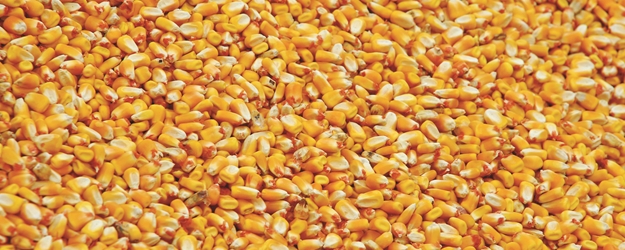 Corn extended its retreat from a six-month high before a government report today that may show ample global supplies. Wheat and soybeans declined.
Corn jumped 14 percent this year in Chicago on concern that exports from Ukraine, the third-biggest shipper, would be disrupted amid political unrest. Prices also rallied on signs of increasing demand for U.S. exports and dry weather in South America. The U.S. Department of Agriculture is set to release its monthly crop report today that may peg global inventories at 156.61 million metric tons at the end of the 2013-14 season, 17 percent higher than the prior year, a Bloomberg survey showed.
"The big export sales, the problems in Ukraine and issues with South American production all in isolation have bullish connotations, but when you bring them into context of global supply and demand, they're far less relevant," Chris Gadd, an analyst at Macquarie Group Ltd., said by telephone from London. "The market instantly priced in the worst-case scenario, and now there is an element of reality coming back in."
Corn for May delivery fell 1.6 percent to $4.8125 a bushel by 7:09 a.m. on the Chicago Board of Trade, heading for the biggest drop for a most-active contract since Jan. 8. Futures reached $5.025 on March 7, the highest level since Aug. 27.
Ukraine may export 18.5 million tons of corn in 2013-2014, placing it behind the U.S. and Brazil, according to the USDA. Global production is set to reach a record 966.6 million tons this year, the agency estimated last month.
Ukrainian Exports
Unrest in recent weeks saw the ouster of former-Ukrainian president Viktor Yanukovych and an incursion by Russia into Ukraine's Crimean peninsula. Still, Odessa and four other Black Sea ports, which handle 87 percent of Ukrainian grain exports, are a long way from Crimea and corn shipments are unlikely to be disrupted, Morgan Stanley said in a March 4 report. Western Bulk ASA, which operates more than 120 commodity ships, said last week cargo movements were unaffected.
Soybeans for May delivery declined 0.6 percent to $14.485 a bushel, after rallying 3.1 percent last week. The USDA may say production in Brazil, the world's top exporter, may be 88.1 million tons, less than a previous forecast of 90 million tons, according to Bloomberg's survey. The agency may also cut its forecast for the country's corn crop, as well as production of both crops in Argentina, analysts said.
Wheat for May delivery dropped 1.2 percent to $6.46 a bushel in Chicago, after touching a three-month high on March 7. In Paris, milling wheat for November delivery declined 0.6 percent to 198.75 euros ($276) a ton on NYSE Liffe.