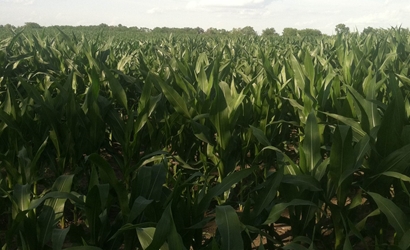 Corn extended a decline to a four-year low in Chicago on signs of ample global supplies with U.S. crops developing in good condition and temperatures cool enough to prevent heat stress.
The U.S. Midwest may see unseasonably cool weather this week, with showers in some areas by July 16, according to QT Weather. While cool temperatures may slow development, plants won't be at risk of heat that can sometimes cause damage to reproducing crops in July, forecaster DTN said. The U.S. harvest may total 13.86 billion bushels, less than estimated a month ago while still the second-biggest crop on record, the U.S. Department of Agriculture said July 11.
"The weather has just been near perfect," Matt Ammermann, a risk management consultant at INTL FCStone, said by telephone today from London. "It's going to be slightly below average temperatures for most of the Midwest for the next two weeks, but right now there's no crop stress at all."
Corn for December delivery fell 0.9 percent to $3.8125 a bushel by 7:17 a.m. on the Chicago Board of Trade. Earlier today, the price touched $3.8025, the lowest for a most-active contract since July 2010. Prices declined for a 10th day, heading for the longest streak since February 2013.
U.S. corn stockpiles on Aug. 31, 2015, will total 1.801 billion bushels, compared with 1.726 billion forecast in June, the USDA said last week. Global inventories will be 188.05 million metric tons before the start of the 2015 harvest, up from 173.42 million estimated for this year and the most since 2000, it said. Corn slumped 24 percent in the past year, helping curb global food prices tracked by the United Nations.
Crop Condition
Seventy-five percent of corn and 72 percent of soybeans in main U.S. growing areas were in good or excellent condition as of July 6, according to the USDA. The agency is scheduled to update its weekly crop progress report later today.
Soybeans for November delivery rose 0.2 percent to $10.775 a bushel, after swinging between gains and losses. The oilseed declined in the previous 10 sessions and touched $10.65 a bushel on July 11, the lowest since October 2010.
U.S. stockpiles of soybeans on Aug. 31, 2015, before next year's harvest, will total 415 million bushels, up from 325 million estimated in June, the USDA said. World inventories will be a record 85.31 million tons, compared with 82.88 million tons predicted last month, the agency said.
Wheat for September delivery rose 0.2 percent to $5.27 a bushel in Chicago, after earlier slumping to $5.2425, the lowest for a most-active contract since July 2010. In Paris, milling wheat for November delivery fell 1.1 percent to 178.50 euros ($243.24) a ton on Euronext.