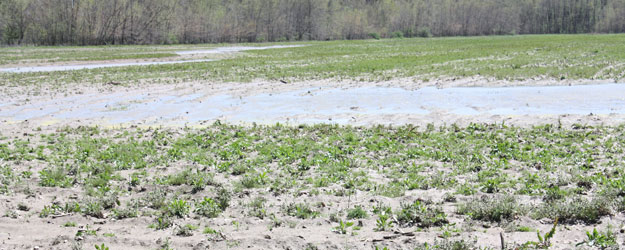 Corn futures rose, snapping the longest slump in two months, on concern that cold, wet weather will cause planting delays in the U.S., the world's top grower. Wheat gained and soybeans dropped.
In the 18 largest state producers, 6 percent of the corn crop was planted as of April 20, compared with the average of 14 percent in the previous five years, government data showed yesterday. A "strong cold shot" was forecast to hit portions of the Great Plains and Midwest next week, with 2 inches (5.1 centimeters) to 4 inches of rain possible in the Ohio River Valley, stalling seeding, Commodity Weather Group in Bethesda, Maryland, said in a report.
"There's increased concern about late planting and the impact it could have on yields," Alan Kluis, the president of Kluis Commodities in Wayzata, Minnesota, said in a telephone interview.
Corn futures for July delivery rose 1.7 percent to close at $5.02 a bushel at 1:15 p.m. on the Chicago Board of Trade, the largest gain for a most-active contract since March 31. The price dropped in the previous three sessions, the longest slump since Feb. 12. The grain has climbed 19 percent this year.
Yesterday, U.S. Department of Agriculture data showed that in the week ended April 17, inspections of corn for export rose 8.1 percent to 1.6 million metric tons from a week earlier, a "pretty positive" number, Kluis said. Today, the USDA reported sales to Mexico of 240,000 tons for delivery in the 12 months starting Sept. 1.
Wheat futures for July delivery rose 0.6 percent to $6.795 a bushel. Yesterday, the price tumbled 3.4%, the most in a year, on the outlook for beneficial crop weather in the U.S., Europe and Russia.
Soybean futures for July delivery fell 1.1 percent to $14.7075 a bushel, the largest drop since April 11. The price dropped for the third straight session, the longest slump since March 12.