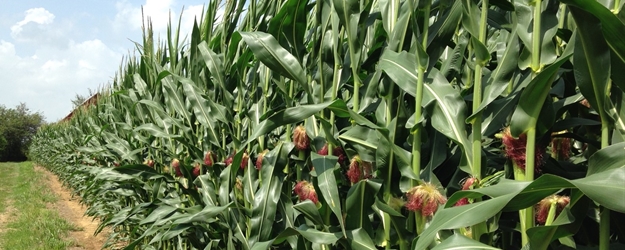 Corn futures extended a slump to a four-year low as crops got the highest rating in a decade amid favorable weather in the U.S., the world's top producer. Soybeans, wheat and soybean oil fell to the cheapest since 2010.
The U.S. Department of Agriculture said yesterday that 76 percent of corn plants were rated in good or excellent condition in the week ended July 20, the highest for this time of year since 2004. Rain in central and southern portions of the corn and soybean belts will bolster crops, and cool temperatures will limit stress in drier areas, MDA Weather Services in Gaithersburg, Maryland, said today in a report.
"The weather looks awfully good for crop development," Tim Hannagan, a grain broker at Walsh Trading in Chicago, said in a telephone interview. "We're trading one weather report one week at a time."
Corn futures for December delivery fell 1 percent to close at $3.6825 a bushel at 1:15 p.m. on the Chicago Board of Trade. Earlier, the price touched $3.675, the lowest for a most-active contract since July 14, 2010. The grain has dropped 13 percent this month.
The USDA said that 73 percent of the soybean crop was rated good to excellent, the highest for the period since 1994.
Soybean futures for November delivery fell 1.3 percent to $10.5775 a bushel. Earlier, the oilseed touched $10.57, the lowest since Oct. 5, 2010. Brazil was the top exporter last year, followed by the U.S.
Wheat futures for September delivery declined 1 percent to $5.245 a bushel. Yesterday, the price touched $5.2375, the lowest since July 7, 2010.
The USDA said 70 percent of the spring crop was in good to excellent condition, unchanged from a week earlier. Rain is possible in Canadian and U.S. growing areas in the next five days, improving soil moisture for portions of the crops, MDA Weather Services said.
Soybean-oil futures for December delivery dropped 0.6 percent to 36.03 cents a pound. The price touched 36.01 cents, the lowest since Feb. 2, 2010.