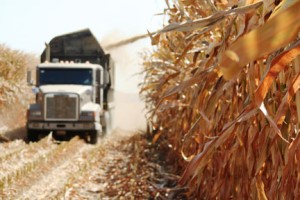 Corn advanced amid concern that an escalation of tensions between Ukraine and Russia may affect grain shipments from the Black Sea region.
Ukraine warned of worsening conflict in its east, with Defense Minister Valeriy Geletey writing on Facebook that the country's army will take on Russia's "full-scale invasion." Ukraine was the world's third-biggest corn exporter in 2013-14, data from the International Grains Council show.
"The weight of fundamentals for the time being is offset by the situation in Ukraine, with the main concerns focused on the difficulty of logistics in an atmosphere of war in the country's east," Paris-based farm adviser Agritel wrote. "For now loading in the Black Sea region nevertheless continues at a very sustained pace."
Corn for December delivery rose 0.1 percent to $3.6525 a bushel by 7:22 a.m. on the Chicago Board of Trade. Prices retreated 0.6 percent in August, a fourth straight monthly drop.
Wheat for December delivery fell 0.2 percent to $5.6225 a bushel in Chicago. Futures trading was 46 percent lower than the average for the past 100 days for this time of day, according to data compiled by Bloomberg. Milling wheat for November delivery traded on Euronext in Paris slipped 0.1 percent to 173.50 euros ($227.58) a metric ton.
World production of wheat will rise to a record 713.4 million tons in the 2014-2015 season, 1.6 percent more than estimated in July and topping the prior year's harvest of 712.5 million tons, the London-based International Grains Council said in a report Aug. 29.
Soybeans for November delivery rose 0.4 percent to $10.2825 a bushel in Chicago.