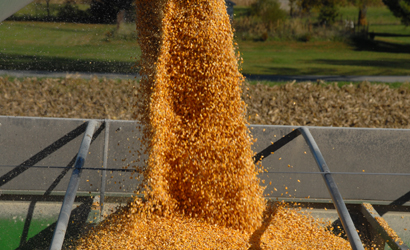 Corn held near the lowest price in four years as crop conditions in the U.S. improved, boosting expectations that production this year will be the highest ever.
The contract for December delivery fell 0.1 percent to $3.515 a bushel at 7:44 a.m. on the Chicago Board of Trade, after falling to $3.5125, matching the lowest for a most-active contract since June 2010. Prices fell 17% this year.
About 74 percent of corn and 72 percent of soybeans were rated in good to excellent condition as of Aug. 31, the best for the week since 1994, the U.S. Department of Agriculture said Sept. 2. INTL FCStone Inc. and Allendale Inc. say corn output will top USDA's estimate. Samples in Illinois, Ohio, Indiana and Iowa, representing 45 percent of forecast output, showed bigger yields than last year, according to inspections on the 22nd annual Pro Farmer crop tour.
"Yield results seem to be surprising people on the upside," Wayne Gordon, an analyst at UBS AG in Singapore, said by phone today. "People are looking at the balance sheet and are thinking they can now lock in these pretty big numbers that a lot of people have been talking about."
Farmers may harvest 14.595 billion bushels, FCStone said Sept. 2. The crop may reach 14.409 billion bushels, Illinois-based Allendale said yesterday. The USDA forecasts a record 14.032 billion bushels.
Wheat for December delivery declined 0.6 percent to $5.3275 a bushel. In Paris, milling wheat futures dropped 0.7 percent, the fifth consecutive decline.
Soybeans for delivery in November fell 0.3 percent to $10.17 a bushel.