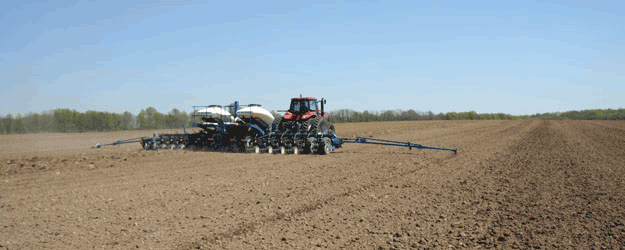 Corn saw a late start, but can it score enough planted acres in May to match crop expectations? Jerry Gulke shares his thoughts.
Cool, wet weather and slow planting progress continues to be the talk of the marketplace. As of April 27, USDA estimates that 19% of the U.S. corn crop is planted, behind the five-year average of 28%.

But despite rain, thunderstorms and unseasonably cold temperatures being forecast across the middle of the country last week, farmers in some states made some suprising planting progress. Illinois, for instance, jumped to 32% planted, up from just 5% the week before and putting it just shy of the five-year average of 33%. Kansas and Missouri are both ahead of their five-year averages, at 37% and 47% respectively. And Iowa jumped from 2% planted a week ago to 15% planted this past week—significant progress but still behind the 33% five-year average.

"It's a tale of two different worlds that we see here in the middle of the United States; as we progress further north, it gets worse," says Jerry Gulke, president of The Gulke Group.
While Gulke is confident that the Corn Belt will plant the acreage it intended, he thinks there could be a loss of corn acres in the northern states.

"It's a crapshoot this time of the year weather-wise, but you can't argue with the fact that the ground temperatures are cool," Gulke says.

USDA's estimates tell the story. Michigan and Wisconsin: 1% planted. Minnesota and Ohio: 4% planted. South Dakota is 11% planted, but North Dakota still hasn't gotten any corn in the ground. And with more rain and cool temperatures in the forecast, prospects for making much progress this week look slim.

But that's not the reason why Gulke thinks corn acres in the north might be reduced.

"As we've learned, there's a lot of wet corn in the bins in North Dakota and South Dakota, and we talked all winter long about the lack of farmer selling," he says. "I think with the $1.18 basis for corn, a lot of them are saying , 'I don't know if I want to plant 100% corn again, because I've got a bunch of it left in there from last year.'"

"Even if prices go up $1, producers will still make money off their old crop instead of taking a chance on new-crop," he continues. "I would not be surprised if they reduce their corn acres up there by half a million acres when it's all said and done."

But again, it really all depends on Mother Nature.

"I think it's a foregone conclusion from the marketplace that we're going to get corn planted in the Corn Belt, as intended," Gulke says, "and then we'll see what happens in the Northern Plains and those fringe areas."
Hear Jerry's full audio analysis:
Have a question for Jerry? Contact him at 815-721-4705 or [email protected].

For More Information  
See current market prices in AgWeb's Market Center.
---