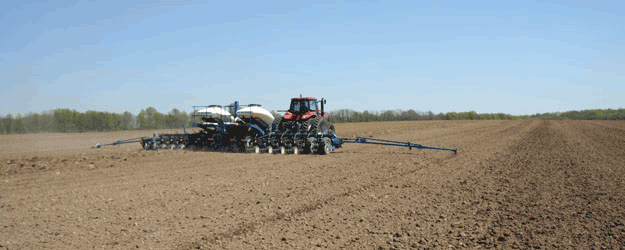 Corn fell on speculation farmers will be able to complete intended plantings even after cold and wet weather delayed field work in the U.S., the largest grower and exporter. Soybeans advanced.
Farmers had sown about 3 percent of the corn crop as of April 13, from 2 percent a year earlier and compared with a five-year average of 6 percent, U.S. Department of Agriculture data showed. Planting may beat the USDA's forecast for 91.69 million acres assuming normalized weather conditions by early May, Goldman Sachs Group Inc. said April 13.
Corn for July delivery lost 0.6 percent to $5.06 a bushel on the Chicago Board of Trade by 7:38 a.m. local time. The contract slipped 0.6 percent last week, and has gained 16 percent this year as USDA data showed domestic corn inventories on March 1 were less than expected by analysts.
"Most participants are not too worried, given up to a third of the crop can be seeded in just one week if conditions are favorable," Luke Mathews, a commodity strategist at Commonwealth Bank of Australia, wrote in a note today.
Farmers had 2 percent in the ground by this time last year and still managed to produce a record harvest by October, as output rebounded from a drought in 2012. U.S. reserves on March 1 were 7.006 billion bushels, less than the 7.098 billion expected by analysts, according to the USDA.
"Weather forecasts suggest slow progress this week but the last week in April should allow for much better planting conditions for the western two-thirds of the Midwest," Paul Georgy, the president of Allendale Inc., wrote in a market comment today.
Spring Crops
Wheat for July delivery was little changed at $6.8625 a bushel after rising 2.8 percent yesterday, the most since March 24. Milling wheat for November traded on NYSE Liffe in Paris dropped 0.1 percent to 204.50 euros ($282.27) a ton.
"Spring crops across key areas of the Black Sea are in need of some rainfall after a dry period, and forecasts show that moisture is likely to move across Ukraine by the end of this week," U.K. grain trader Gleadell Agriculture Ltd. wrote in a daily report.
Western and central Ukraine may get as much as 25 millimeters (1 inch) of rain in some areas in the next two days, with more rain expected across the country in the four to seven- day period, according to World Ag Weather.
Soybeans for July delivery rose 0.5 percent to $14.7125 a bushel in Chicago.