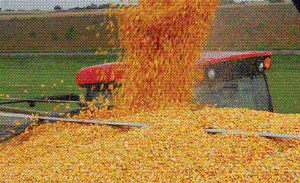 Corn and soybeans rebounded in Chicago amid speculation that markets trading near the lowest levels since 2010 aren't taking into account the potential threat of a U.S. frost.
Temperatures are expected to cool next week in the northern U.S. Plains and a frost is possible in parts of North Dakota, the National Weather Service said. While growing areas in the Midwest won't see "significant cold" through at least mid- week, areas of the Canadian Prairies are facing a frost risk, forecaster DTN said yesterday.
"There is one very real concern: the possibility suddenly of an early frost," economist Dennis Gartman wrote in his daily Gartman Letter today. "Should temperatures drop toward freezing, corn prices might indeed shoot rather markedly higher, for the crop is vulnerable to frost at this point."
Corn for December delivery climbed 0.4 percent to $3.48 a bushel at 5:33 a.m. on the Chicago Board of Trade. Futures fell to $3.4375 yesterday, the lowest for a most-active contract since June 2010. Prices are set to drop 4.6 percent this week.
Soybeans for delivery in November rose 0.3 percent to $10.065 a bushel after declining to $10.0125 yesterday, the lowest since September 2010. Prices are set to retreat for a fourth week, the longest run of such declines since July 2013.
Crop prices have declined this year on the outlook for record U.S. harvests. U.S. corn production may rise to 14.595 billion bushels and soybean output was seen at 4 billion bushels, INTL FCStone said Sept. 2, larger than the U.S. Department of Agriculture's estimate in August. The USDA is set to update is forecast on Sept. 11.
Black Sea
Wheat for December delivery rose 0.8 percent to $5.3425 a bushel in Chicago. Prices are still down 5.2 percent this week as concerns eased about exports from the Black Sea region amid signs a cease-fire may develop in eastern Ukraine. In Paris, milling wheat for November delivery was unchanged at 170.75 euros ($221.34) a metric ton on Euronext.
Cool weather and showers on the northern U.S. Plains is slowing spring wheat harvesting and causing quality concerns, WeatherBELL Analytics LLC said in a report yesterday. About 38 percent of the crop was harvested by Aug. 31, compared with the five-year average of 65 percent, the USDA said Sept. 2.