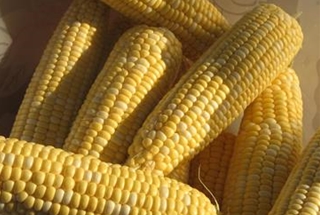 Corn dropped for the first time in six sessions in Chicago on speculation a government report will show a larger U.S. harvest than previously expected.
The U.S. may produce a record 14.54 billion bushels of corn, according to a Bloomberg survey before the U.S. Department of Agriculture updates its estimate Oct. 10. Last month, the USDA pegged the crop at 14.395 billion bushels. A bigger U.S. crop will help bring global inventories to 192.89 million metric tons by the end of the 2014-15 season, 11 percent higher than the prior year, the survey showed. U.S. farmers are currently harvesting corn and soybean crops.
"All eyes will be on the USDA report," Phin Ziebell, an agribusiness economist at National Australia Bank Ltd., said by phone in Melbourne. "The latest indications show that the harvests continue to perform strongly."
Corn for delivery in December fell 0.5 percent to $3.3875 a bushel at 7:13 a.m. on the Chicago Board of Trade. The grain rose 6.2 percent in the previous five days. Futures are down 20 percent this year on the outlook for ample world grain supplies.
Soybeans for November delivery rose 0.3 percent to $9.44 a bushel. The oilseed slumped 27 percent this year. U.S. production may rise to a record 3.99 billion bushels, higher than last month's forecast of 3.913 billion, Bloomberg's survey showed.
Wheat for December delivery was little changed at $5.065 a bushel in Chicago, after touching $5.115, the highest since Sept. 11. In Paris, milling wheat for November delivery dropped 0.6 percent to 161.75 euros ($204.57) a ton on Euronext.