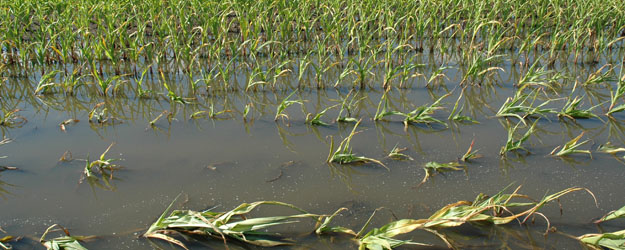 Corn rose for a third day, extending a weekly gain, amid concern that excessive rain in the U.S. Midwest will cause crop conditions to deteriorate for the world's biggest grower and exporter. Wheat and soybeans climbed.
Some areas of Iowa, Minnesota, South Dakota and Nebraska had more than 12 inches of rain this month, stunting root development and yield potential in about 11 percent of the U.S. growing area, T-Storm Weather LLC in Chicago said last week. Most of the Midwest received rain in the past seven days, data from World Ag Weather show.
"Coming out of another weekend of heavy rains across much of the U.S. growing area, traders will register their concern over reduced production potential early," Darin Newsom, an analyst at DTN, wrote in a market report.
Corn for December delivery rose 0.8 percent to $4.5575 a bushel on the Chicago Board of Trade at 6:37 a.m., and touched $4.5725, the highest since June 6. Futures climbed 1 percent last week, the first increase since the period ended May 9. Trading volume was 31 percent higher than the average for the past 100 days for this time of day, according to data compiled by Bloomberg.
Prices have dropped 17 percent in the past year as U.S. farmers may harvest a record 13.935 billion bushels in the season starting Sept. 1, the Department of Agriculture says.
"Corn has pollination weather ahead of it still in July and it's a pretty major potential stress period for that crop," Michael Pitts, commodity sales director at National Australia Bank Ltd., said by phone from Sydney. "Until corn gets through that period, it's going to have some form of support. It's hard to see it being sold off."
More heavy rains over northwest Iowa may prove an issue with flooded fields in an area that had been dry, WeatherBELL Analytics LLC said June 19.
Wheat Rebounds
Wheat for September delivery rebounded 0.6 percent to $5.97 a bushel after six weeks of losses, while milling wheat for November delivery traded on Euronext in Paris added 0.3 percent to 188.75 euros ($256.51) a metric ton.
Saudi Arabia bought 780,000 tons of hard wheat for shipment in September to November, the country's state-run Grain Silos & Flour Mills Organization said. Egypt, the world's biggest wheat buyer, finished its local purchasing season with 3.7 million tons bought, according to Supply Minister Khalid Hanafy. That compares with an April goal of 4 million tons.
Soybeans for delivery in November rose 0.8 percent to $12.415 a bushel. A Chinese purchasing managers' index rose to a seven-month high, indicating the economy of the world's biggest soybean buyer may avoid a hard landing.
"The bottom line is that the world's largest buyer of beans is expected to stay active in the market," Newsom said.