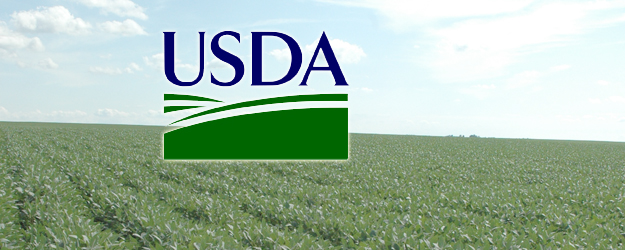 New supply-demand estimates from USDA project slightly higher ending corn stocks but slim soybean supplies next summer, compared with last month's projections. 
"This report is not wildly bullish," said Brian Hoops, president of Midwest Market Solutions, Yankton, S.D. "It is constructive for corn and soybeans, but not for wheat." He commented in a conference call sponsored by the Minneapolis Grain Exchange after USDA issued production and supply-demand reports.
USDA estimated corn production at 12.43 billion bushels, off 0.5% from last month's projection and down just slightly from last year's crop. USDA's projection also was below trade estimates, which averaged about 12.47 billion bushels.
"This would be the fourth largest production figure in history, but the yields would be the smallest since 2005," noted Hoops. USDA estimated the average corn yield at 148.1 bu./acre, the same as last month but down from 152.8 bu. last year. USDA also reduced its estimates for planted and harvested acreage.
"The market's job will be to make sure we do not lose any acres to other crops," said Hoops.
The reports suggest strong acreage competition from soybeans. USDA projected only 160 million bushels of soybeans in ending stocks next summer, down from 165 million projected last month and last year's ending stocks of 215 million. The trade had expected stocks of about 183 million bushels.
Beginning soybean stocks for 2011-12 declined in line with the Sept. 30 Grain Stocks report. USDA trimmed this year's production slightly as it reduced the projected yield to 41.5 bu./acre from 41.8 last month and 43.5 last year. Projected 2011-12 crush is steady, but anticipated exports are lower from last month.
Corn balance loosens
Even though USDA trimmed corn acreage and production estimates, it raised its beginning stocks number in line with the Grain Stocks report and reduced estimated exports. Projected ending stocks next year reached 866 million bushels, up from last month's projection of 672 million and more than the trade estimate of just over 800 million bushels.
The ratio of ending stocks to the year's use, at 6.8%, is still the second lowest on record, noted Dan O'Brien, ag economist at Kansas State University.
"You still have a a projected decline of stocks from 2010-11 to 2011-12," said O'Brien. Demand is also declining. Projections for this season's demand are down 4.5% from last season for ethanol, down 2% for feed and residual, and down 13% for exports.
"We have a pretty good handle on what corn production will be this year," said Hoops. "Demand will fluctuate through the winter," depending on demand and production in other countries.
Underlying support, financial uncertainty
O'Brien expects that in the short term, harvest will put seasonal pressure on prices.
"If we start to get signals on the demand side that if prices fall too low, we will have export buyers or other users seeing buying opportunities, there will be a tendency for that underlying support to stay with the market," he said.
Weather prospects for 2012, South American production and marketing, export demand, and acreage competition will be factors to watch in coming weeks, said O'Brien.
"We have an understanding of the fundamentals of supply and demand," he said. "Fundamentally, there is underlying support for feed grains and soybeans and wheat. But the bigger, whipsaw carryover factor would be what could happen to the financial markets."
See the data, read the biggest news and listen to analysis of today's Crop Production and WASDE reports.
---