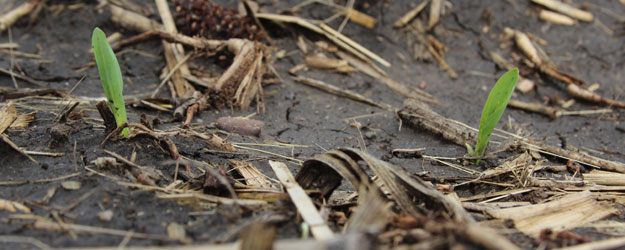 Corn futures traded near the lowest since February in Chicago as forecasts for ample rain in the U.S. increased prospects that the harvest will reach a record.
U.S. production may total 13.939 billion bushels in 2014-15, an all-time high and bigger than the previous government forecast of 13.935 billion, according to a Bloomberg News survey before the U.S. Department of Agriculture releases its estimates June 11. The southern Midwest may see "active rains" through early next week, maintaining adequate moisture for crops, while drier weather in northern Missouri and Iowa will ease wetness concerns, MDA Weather Services said.
"We've got building stocks and a forecast record U.S. corn harvest," said Graydon Chong, an analyst at Rabobank International in Sydney. "The closer we get to realizing that crop and have it hit the physical market, we're going to continue to expect to see bearish price movements."
Corn for July delivery was 0.2 percent higher at $4.4975 a bushel at 7:13 a.m. on the Chicago Board of Trade, after earlier touching $4.47, the lowest for a most-active contract since Feb. 14. Futures declined for a fourth week, the longest streak of losses since August. Soybeans for delivery in November were little changed at $12.115 a bushel.
Corn erased losses as some weather forecasts indicated hotter weather, while the USDA reported "very strong" U.S. export sales yesterday, according to Allendale Inc. Temperatures in the Midwest may be near-to-above normal in the six-to-10 day forecast, DTN said. Exporters sold 570,303 metric tons of corn in the week-ended May 29, and sales over the past four weeks were about 27 percent higher than the same time last year, USDA data show.
Higher U.S. corn production means global inventories before the 2015 Northern Hemisphere harvest may total 182.2 million tons, bigger than the USDA's May estimate of 181.73 million, according to Bloomberg's survey. The U.S. soybean harvest also may be a record at 3.631 billion bushels, bringing world inventories to 81.98 million tons, analysts said.
Wheat rose 0.6 percent to $6.095 a bushel in Chicago, after earlier touching $6.03, the lowest since Feb. 28. Prices are set for a fourth weekly loss, the longest run of declines since January. In Paris, milling wheat for November delivery rose 0.8 percent to 192.50 euros ($262.63) a ton on Euronext.
The southern U.S. Great Plains, northern Delta region and southern Midwest will see "frequent rain" in the next week, slowing the early soft wheat harvest and possibly bringing some flooding to parts of Oklahoma and far southern Kansas, Commodity Weather Group said in an e-mailed report today. U.S. farmers begin harvesting winter wheat this month. Growing areas in the Plains suffered from drought this year.