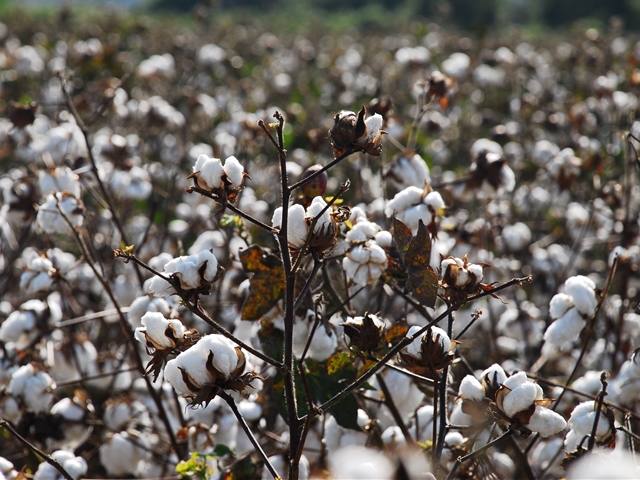 Cotton stockpiles are swelling so large that there will be enough in global warehouses to make about 23 billion pairs of jeans, or three for every person on the planet. The glut sent prices to a five-year low today.
Global production will outstrip demand for a fifth straight season, boosting inventories to an all-time high, the U.S. government said Nov. 10. American exports in the 12 months ending July 31 are forecast to slump the lowest since 2001, with purchases slowing in China, the biggest global consumer.
Waning demand is stinging textile mills in Texas, the biggest U.S. grower. American Cotton Growers LLC filed a letter to a state agency last week saying it expects to close a plant permanently in Littlefield and fire 340 employees in January. The denim maker was once Lamb County's biggest employer, according to the city's website.
"We have plenty of cotton out there," Erik Tatje, a senior market strategist at RJO Futures in Chicago, said in a telephone interview. "I don't think that demand is high enough at this point to to see any kind of reversal in prices. Cotton is going to move lower."
Cotton for March delivery dropped 2.6 percent to settle at 58.75 cents a pound at 2:20 p.m. on ICE Futures U.S. in New York, after touching 58.57 cents, the lowest since September 2009.
A receding drought in Texas is helping to boost production, and U.S. output will jump 27 percent this year to 16.4 million bales, the Department of Agriculture said this week. Exports will slide 5 percent to 10 million bales. The U.S. is the top shipper of the fiber.
Cotton output is also climbing in India, set to overtake China as the world's largest producer, according to USDA data. The country's harvest will match last year's record of 31 million bales, the agency estimates. Global stockpiles will reach an all-time high of 107.36 million bales, each weighing 480 pounds, or 218 kilograms.
Production is rising just as China cuts imports because of record inventories. The nation's purchases will drop 50 percent this year to the lowest since 2009, USDA figures show.
Futures have plunged 73 percent from an all-time high of $2.197 reached in 2011. Lower prices can help improve profit margins for clothing manufacturers. Underwear maker Hanesbrands Inc. expects lower costs in the second half next year, Richard A. Noll, chairman and CEO said in an earnings call Oct. 29.
"That's about how long it'll take for what you're seeing on the December contract today to actually be harvested and then sold, put into production," Noll said.