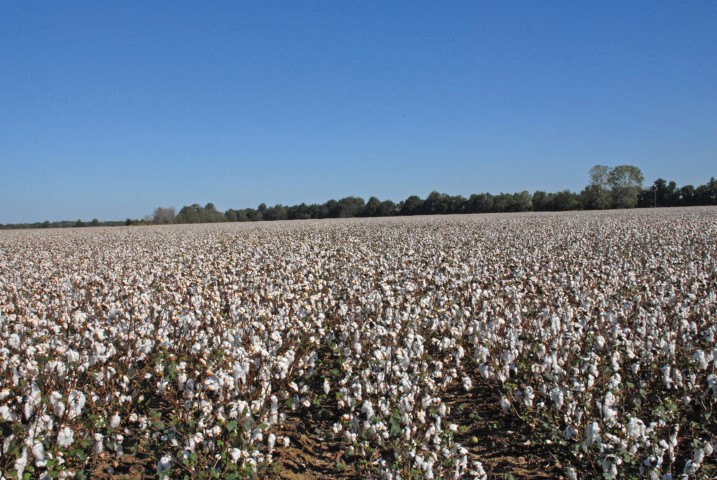 Green Mississippi fields will be a blanket of white this fall as area farmers are eyeing cotton as a more profitable crop to plant this year.
"Out of the 8,500 acres we farm, I'm going to farm about 5,000 acres of cotton, and the other half, what's left, split between beans and corn," said Tom Pitts, a farmer in Indianolo, Miss.
There are those getting back into cotton, and then those who never left.
"We're 100 percent cotton and have been for 20 years," said Coley Bailey, farmer in Grenada County, Miss.
Cotton has been in an acreage battle for nearly a decade.
"When we saw the big change from cotton to grains, it was such a dramatic swing, and now going back from grains to cotton, it's more of an incremental growth, which I think is healthy for everyone," said Wade Litton, president and CEO of Wade, Inc., a John Deere dealer in Mississippi. "I know it's healthier for the dealer, and I know it's healthier for the grower."
A healthy transition that's also spilling into the cotton equipment market. Pitts sold every piece of cotton equipment he owned in 2010. But in the past two years, he's launched back in, purchasing three gently-used cotton pickers.
"About 1,500 acres per picker is what we try to put on one," said Pitts. "Some people put less, some more, but that's where we feel comfortable."
It's the newer cotton pickers changing the way this father and son harvests.
"They kept me in the cotton business," said Coley Bailey, a farmer in Grenada County, Miss. "Without the round bale picker, we'd be doing something else."
"The labor savings with these new pickers is unbelievable," said Bailey's son, Coley Bailey, Jr.
It's those added features plus the surge in acres putting more farmers in the market to buy.
"This year isn't tough to even get a used cotton picker, said Sean Stubbs, corporate service manager at Wade Inc. "They've gobbled them up pretty quick this year."
"It's created an opportunity for the growers, and an opportunity for the dealers, just to get back in the cotton picker market," said Litton. "It's been welcomed."
 The cotton boom is also showing up on Machinery Pete's radar. 
"The cotton market is interesting," said Greg Peterson, host of Machinery Pete TV. "These big rigs don't show up every day at auction, but when they do the last two of three months here, values have been pretty strong, and that just reflects the optimism in the cotton market right now."
Machinery Pete says in the Mississippi Delta, it's good condition used equipment showing a strong performance—a trend he's seeing all across the country.
"What's happening is the whole used equipment market is cutting along the line of condition," said Machinery Pete. "If it's good condition, even late-model stuff—combines, late model planters—we've been seeing some really strong prices."
He says the middle of March historically shows signs of softness, but that's not the case today if the condition is good.
As farmers start to push the throttle on planting in 2017, moods are better.
"I'm very optimistic about 2017," said Litton. "Wade Inc. is in a good position, and our growers are in a good position to be able to capitalize on 2017. As a company, we've been able to recalibrate the way we do some things in the past couple of years."
It's also recalibrating farmers' mindsets on the year.
"Our outlook is good," said Pitts. "We wish the prices were higher, as we always do, but we do have hopes for a high yield."
"It depends on our yields," said Bailey. "Last year's yields were certainly adequate to put us slightly in the black."
These farmers hope for a repeat performance of 2016, with both better yields and outstanding quality of cotton. If Mother Nature lends them a hand, area farmers think the sky is the limit for 2017. 
On the Road with Machinery Pete, Greenwood, Mississippi: March 25, 2017