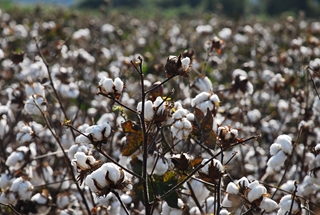 Cotton inventories in the U.S., the world's top exporter, are heading for the biggest increase since 1986 as growers across the South store more crops that, for some, are worth less than they cost to produce.
Farmers Cooperative Compress, the largest warehouse owner, with capacity for 2.5 million bales, predicts its West Texas facilities will take in 29 percent more this season than a year earlier, with the fiber spending a month longer in storage than the 86-day average of the past four years.
"A merchant has suggested that shipping may slow down after January," signaling more-than ample supplies into next year, said Don Harper, administrative vice president for the Lubbock-based co-op, which has 8,250 members, including growers and land owners.
Production in the U.S. is set to jump 28 percent to a two- year high just as China, the world's biggest buyer, cuts imports because of record inventories. Prices have plunged 24 percent this year, touching a five-year low and reducing costs for clothing makers including Carter's Inc. and The Gap Inc. Cotton futures probably will drop 16 percent further by April to 54.5 cents a pound, according to the median forecast in a survey of eight traders and analysts by Bloomberg News.
Farmers from Georgia to California will harvest 16.54 million bales in the 12 months that began Aug. 1, the biggest increase in four years, the U.S. Department of Agriculture said Sept. 11. Unsold inventories as of July 31, 2015, will total 5.2 million bales, more than double the 2.45 million held a year earlier, as exports plummet to a 14-year low of 10 million bales, the USDA said. A bale weighs 480 pounds (218 kilograms).
China Surplus
Global exports will tumble 14 percent, marking the first two-year decline since 1997, mostly because China's inventories will be a record 62.91 million bales, USDA data show. The Asian country increased stockpiles almost six-fold over the past four years, after the government bought up supplies to support domestic growers, contributing to a surge in prices that reached a record $2.197 in March 2011.
There are signs that China will no longer stockpile cotton. Ts.cn, a news website backed by the Xinjiang government in western China, said Sept. 18 that government will allow the market to set prices and instead provide direct subsidies to growers if cotton falls below a target price.
After imports jumped to a record 24.53 million bales in 2012, the country will reduce purchases in 2015 for a third straight year to 8 million, the lowest since 2009, the USDA estimates. That's compounding a global surplus, with inventories equal to 95 percent of annual use, the most ever. The 106.2 million bales of stockpiles is enough to make 22.85 billion pairs of jeans, or 3.2 for every person on the planet. 
Longer 'Downtrend'
"The consumption outlook is not that great, and this is exacerbated by the shift in Chinese policy," said Sameer Samana, the St. Louis-based international strategist at Wells Fargo Advisors LLC, which oversees about $1.4 trillion. "Prices will remain in downtrend for a while longer."
Cotton futures are down 55 percent since 2010, before China began boosting state stockpiles and the country's imports reached 54 percent of global trade in 2012. Prices on Sept. 25 touched 60.83 cents, the lowest since October 2009. This year's slump is the third-largest among 22 raw materials tracked by the Bloomberg Commodity Index, which is down 4.9 percent. The MSCI All-Country World Index of equities advanced 1.3 percent, and the Bloomberg Treasury Bond Index rose 4.3 percent.
Money managers are the most-bearish on cotton since November 2012, with a net-short position of 8,168 futures and options contracts as of Sept. 30, U.S. Commodity Futures Trading Commission data showed Oct. 3. 
Too Cheap
Cheaper cotton is helping to partly offset higher labor costs in Asia for Atlanta-based Carter's, Chief Executive Officer Michael Casey said on a Sept. 3 conference call. Raw cotton accounts for 15 percent of product costs, compared with 45 percent for labor, he said. For San Francisco-based Gap, "some small benefit" will show up early next year, with a "much more pronounced effect" in mid 2015, Chief Financial Officer Sabrina Simmons said on an Aug. 21 earnings call.
The price slide may discourage some producers and erode the surplus. It costs farmers around the world $1.50 on average to produce a kilogram of cotton (68 cents a pound), according to the International Cotton Advisory Committee. In West Texas, the largest U.S. growing region, the range is 65 cents to 75 cents, and nine of 10 growers will need extra yield to cover costs, said Shawn Wade, director of policy analysis and research at Lubbock, Texas-based Plains Cotton Growers Inc., the biggest producer group in the state.
Weather Risk
Some fields from Texas to South Dakota received as much as eight times more rain than normal in week ended Sept. 30, data from the High Plains Regional Climate Center show. Continued downpours during the harvest, which runs through the end of December, could hamper quality, said Andy Karst, a meteorologist at World Weather Inc. in Overland Park, Kansas.
In Xingjian, China, cold weather during the early harvest means crops won't mature as quickly as usual, said Drew Lerner, the World Weather's president. Heavy rains may erode quality and increase the risk of boll rot in eastern China, he said.
"China and U.S. crops have serious issues with rains, which could hurt quantity, but more so the quality," said Sharon Johnson, an introducing broker for KGC Futures in Roswell, Georgia. "This doesn't mean we would run out of cotton, but to improve margins, mills need good-quality cotton to make good products, and they may push for China to increase the allowed imports. Nobody is making money at these levels."
Reduced Demand
The Chinese government said last month that its import quota will be capped at 894,000 tons (4.1 million bales), the amount required by the World Trade Organization. That's just 51 percent of the 8 million-bale forecast by the USDA, which already would be the lowest in six years.
The government probably will sell 2 million to 3 million tons from state reserves annually to ease a domestic surplus, the International Cotton Advisory Committee said Sept. 2. The government sold 300,000 tons in August, cutting state reserves to about 11 million tons (50.5 million bales), it said.
Plunging imports from China means that the world will see a fifth straight year of cotton surpluses, the longest stretch since 1999, even as global output drops for a third year and demand increases 4.1 percent, the most since 2010, USDA data show.
"There's more cotton than the world needs," said John Flanagan, the president of Flanagan Trading in Fuquay-Varina, North Carolina. "The world does not want as much as cotton as we are trying to sell. Prices have to go low enough to discourage planting acres. If not, they are probably going to go even lower by next summer."