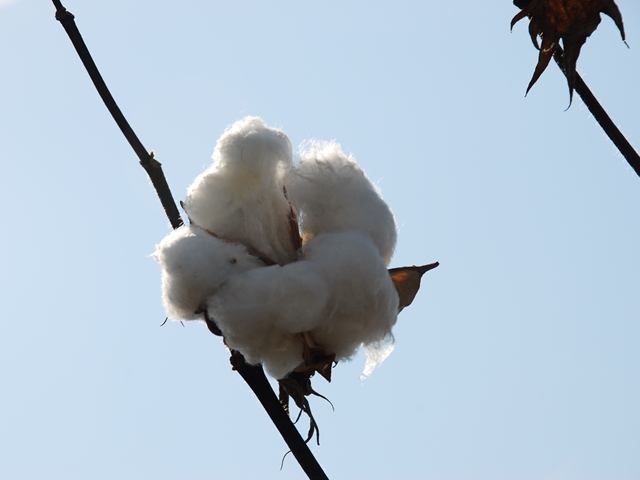 Farmers in India may plant fewer acres of cotton this year as slumping demand from China cuts exports to the lowest level in six years.
The area is set to drop as much as 10 percent in the 12 months starting Oct. 1 from a record 12.97 million hectares (32 million acres) a year earlier, said Dhiren Sheth, president of the Cotton Association of India. The harvest was a near-record 39 million bales of 170 kilograms (375 pounds) this season, Cotton Advisory Board data show.
A smaller harvest in India, the largest exporter after the U.S., would ease a global surplus that sent New York prices to a five-year low in January. China, the world's biggest buyer, is importing less of the fiber used to make everything from jeans to tee shirts. That will contribute to a 41 percent drop in Indian shipments this year, the advisory board estimates.
"There isn't enough money to buy cottonseed this year as we got lower prices last year," said Suresh Ganganna Bolenwar, a 46-year-old farmer from Yavatmal in Maharashtra state. "I'll grow less cotton and plant more lentils, sorghum or soybeans."
Prices fell to 57.05 cents a pound on Jan. 23, the lowest level since August 2009 on ICE Futures U.S., and traded at 64.46 cents on Wednesday. Futures on the Multi Commodity Exchange of India Ltd. in Mumbai have declined about 32 percent from a record in 2013.
Global Trend
Farmers worldwide will cut planting by about 7 percent this year, leading to a 9 percent decline in output to 23.9 million metric tons in the 12 months starting Aug. 1, according to the the International Cotton Advisory Committee.
"The decrease in area in India may not exceed 10 percent as in the last few days prices have been jumping up," Sheth said by phone from Mumbai on May 18. Futures in Mumbai rallied 7 percent in April, the biggest monthly advance since December 2013, and they advanced 7.6 percent in New York. Planting will gather pace with the monsoon rains in June.
Exports from India will probably drop to 7 million bales in the 12 months ending September from 11.79 million bales a year earlier, the advisory board says. That would be the lowest since 2008-2009, board data show. Shipments were probably about 5 million bales so far this season, the association says.
"As a policy China has reduced imports and our prices are not low enough for exports," D. K. Nair, secretary general of the Confederation of Indian Textile Industry, said by phone from New Delhi. "I don't think exports are viable."
Chinese Stockpiles
China is seeking to reduce record stockpiles accumulated through a government program to support farmers. That means an increase in domestic supply and a decline in imports to as low as 5 million bales next season, according to Plexus Cotton Ltd., a Liverpool-based merchant. That would be the smallest since 2003, U.S. Department of Agriculture data show.
A below-average monsoon in India may not hurt output as cotton is more resilient than most rain-dependent crops, Sheth said. The monsoon, which provides more than 70 percent of annual rainfall, will be below normal for a second straight year as an El Nino heats the Pacific Ocean, according to the India Meteorological Department.
"Usually a poor monsoon tends to benefit cotton as it is a desert crop," Sheth said. "It's not a cause of concern."