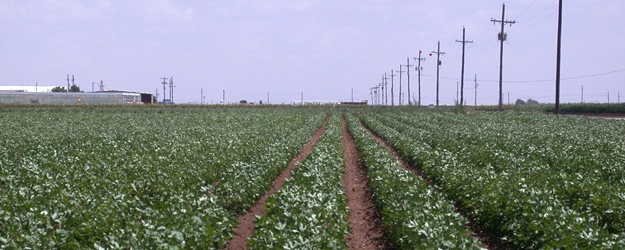 Cotton planting is progressing at near-average speed this year, but four of the top-15 cotton-growing states—Texas, Oklahoma, Kansas, and California—are mired in a multi-year drought that doesn't want to let go.
In Texas, where roughly half of the nation's cotton is grown, 36 percent of the crop was planted as of May 19, according to USDA's weekly Crop Progress report. Average for this time of year in Texas is 38 percent planted.
Planting in Dust
"They are planting under dry conditions," says John Robinson, Texas A&M cotton specialist. "The crop is insured so most of the time they go ahead and plant. They are planting in the dust, and they'll wait to see what happens. If it's rain-fed cotton, they just wait to see what happens. They are fighting a battle, and it's very iffy."
USDA is anticipating that 24 percent of this year's cotton will be abandoned. USDA also predicts a total U.S. cotton crop of 14.5 million bales, compared with last year's 12.9 million bales.
"I was surprised to see that USDA stepped out with such a high abandonment number," says Robinson. "I view USDA as making incremental changes."
About two-thirds of Texas' cotton depends on rain, and all of the state's cotton has been planted in soils that are in some degree of dryness, Robinson says.
"Where it really matters is really dry," he notes.
The developing El Niño could bring rain to drought-parched Texas cotton fields as early as July or August, and whatever cotton is still in the field at that time, would greatly benefit from timely rains.
"It's a one extreme to another type of situation," Robinson notes.
Elsewhere, Oklahoma producers have 18 percent of their cotton planted, compared with a five-year average of 19 percent. Both Kansas and California cotton producers are ahead of schedule. In Kansas, 21 percent of the cotton is planted, compared to the five-year average of 16 percent, and in California, 99 percent is planted, compared with a 93-percent five-year average.

California Acres Way, Way Down
The bulk of California's cotton is grown in the San Joaquin, the epicenter of the worst of the state's drought. Cotton acreage in California is down nearly 30 percent this year, from 280,000 acres in 2013 to 195,000 acres this year, according to USDA.
"Most growers knew in advance of planting that things were pretty bleak on the water front," says Dan Munk, farm advisor and cotton specialist with the University of California Cooperative Extension in Fresno.
Because all of the state's cotton is irrigated, unless a well goes bad or goes down, most likely all of the state's cotton will be harvested.
"The crop is off to a pretty good start with good, early heat units," says Munk. "And with the lack of rainfall, we anticipate we might not have such a bad pest year."
Munk notes, however, that California agricultural producers are overdrawing on the groundwater, which is not healthy longer term.