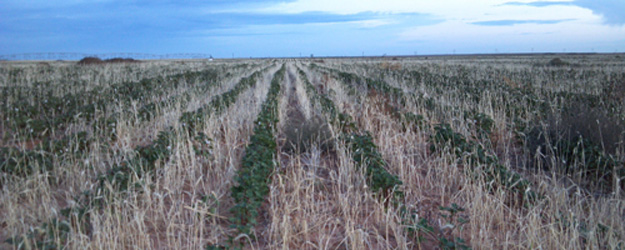 Speculative buying pushed cotton prices 18% higher over the first quarter of 2013, and USDA's Prospective Plantings report, which sharply reduced cotton acreage, added to the gains. But the outlook for cotton is not all that rosy. Last week, China announced it would sell more government held reserves of cotton, a move that's expected to have a price dampening effect.
Since 2011, the Chinese government has purchased about 10 million metric tons of cotton, equivalent to roughly 60% of world's cotton stocks. On March 26, an international farm group official said China plans to sell 3 million tons from those reserves.
Two days after that announcement, USDA released its Prospective Plantings report that showed the nation's cotton producers intend to plant 10 million acres of cotton, 19% less than last last year. Projected acreage for upland cotton of 9.82 acres was 19% less than last year, while American pima acres of 206,000 are projected to be 14% lower than a year ago.
The Prospective Plantings report has been friendly to cotton, says John Anderson, agricultural economist with Texas A&M University. But USDA's report shows 1 million more acres than the National Cotton Council's survey released in early February.
Cotton Remains Uncertain
"It's an uncertain situation," says Robinson. "If it stays dry, acreage could increase 300,000 to 500,000 acres in West Texas. Drought will induce producers to plant more cotton."
First, he says, if the crop is a complete loss, insurance will pay more on cotton than on other crops, and if the crop emerges and the producer realizes some yield, cotton will produce more than other crops in dry conditions.
While planting has begun in the Coastal Bend and Rio Grande regions of Texas, Robinson expects delayed planting this spring as producers continue to monitor the weather and weigh options.
"Where the largest concentrations of dryland cotton are, drought is the worst," says Robinson. "We could have a lot of abandonment this year."
According to the U.S. Drought Monitor, the worst areas of drought, which include the Rolling Plains and Coastal Bend regions in Texas, and the southwestern corner of Oklahoma, all areas with large concentrations of dry-land cotton.
Long-term consequences
"Five out of the last six years, have been dry years in Texas," notes Robinson. "And one of those years, 2011, was the absolute worst drought ever." Robinson says that it has been so bad for so long in Texas that bankers could start closing some operating loans.
Conditions in the heart of Oklahoma cotton country are extreme. "We are looking at severe shortages. We haven't had any subsoil substaintal runoff since the fall of 2010," says Randy Boman, Oklahoma State University Extension.
The reservoir that serves the area around Altus, Oklahoma, is at 16% capacity, Boman says. While precipitation in January and February was okay, rainfall in March has, once again fallen way off. At the University's research station in Altus, only 0.25 inches of precipitation fell in March, compared with the long-term average for March of 1.8%.
"April and May rainfall is critical for getting the crop established, both dry land and irrigated," says Boman.
Many cotton farmers in southwest Oklahoma, where a majority of the state's cotton is grown have had back-to-back years of total losses. That has reduced their average production history (APH) for insurance purposes. Boman notes that the question for producers with a history in both cotton and sorghum is whether they continue to drive their cotton APH lower or take a hit on grain sorghum.
 
---