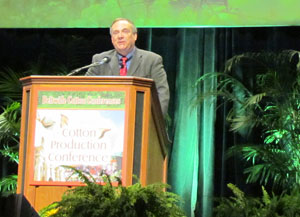 Experts say weather patterns don't signal a repeat of a tough 2012, but warn that "surprises are normal" with forecasting.
The agriculture industry has tended to focus primarily on the Midwest during last year's record-shattering drought, but this region wasn't the only one adversely affected by the weather. The Cotton Belt dealt with its own set of problems in 2012, including pervasive hailstorms in the Southwest, Hurricane Isaac damage in the Mid-South and drought conditions scattered across most of the region.

"We were in severe, extreme or exceptional drought in many cotton production regions," says Gaylon Morgan, associate professor and cotton specialist for Texas A&M AgriLife Extension Service.

Morgan gave a region-by-region recap of cotton production in 2012 at the Beltwide Cotton Conferences, held this week in San Antonio, Texas. Morgan's colleague, Texas state climatologist John Nielsen-Gammon, took a look forward to see what weather may be in store for the Cotton Belt in 2013.

"We can only forecast the weather for a week or so before randomness takes over," Nielsen-Gammon laments. "We can tell which way the odds are being tilted, but it it's really hard to be anything close to what we could call precise."

However, he adds that weather prediction has an ace up its sleeve — El Niño and La Niña oceanic patterns. These events can be predicted several months in advance.

It may seem counterintuitive, but sea surface temperatures thousands of miles away in both the Pacific and Atlantic oceans actually have a tremendous impact on U.S. weather patterns, he says.

"We're in just the right latitude to be strongly affected by [El Niño and La Niña]," he says.

Both cotton and thunderstorms need some of the same basic ingredients to grow and thrive, Nielsen-Gammon says — namely heat and water. The primary difference, he explains, is that cotton stays in one place, while thunderstorms are all across the globe based on various sea surface temperature and atmospheric conditions. Unfortunately, current conditions in both the Atlantic and Pacific oceans have been causing problems for cotton producers, Nielsen-Gammon says.

"Both oceans are effectively working against us right now," he says.

Predictions this fall of a weak El Niño pattern have since degraded into neutral conditions, which Nielsen-Gammon expects to continue through the beginning of summer. That equates to a tendency for slightly higher temperatures and slightly lower rainfall across the Cotton Belt this winter and spring. And as long as North Atlantic sea surface temperatures remain relatively warm, there will be a tendency for drier summers in the south-central and southeastern U.S.

Nielsen-Gammon likes the word "tendency" because he says cotton producers should ultimately prepare for any reasonable weather scenario. Weather prediction by its very nature is a notoriously fickle science.

"Surprises are natural," he says. "The weather has a mind of its own."