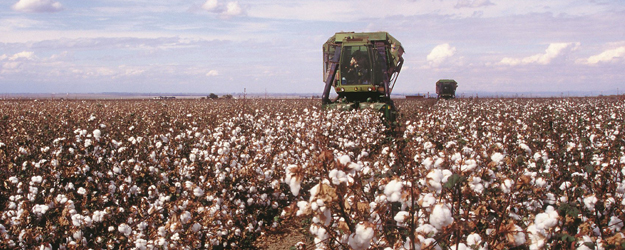 U.S. cotton harvest has been slow. As of Oct. 2, only 16% of the nation's crop had been picked, but harvest is expected to accelerate rapidly over the next week. 
"Harvest has been spotty in the Southeast," says Peter Schlee, cottonseed merchandizer with Apex, in Orchard Park, New York. "But it is expected to pick up and be going full steam over the next week." Several weeks of rain have delayed harvest in the Carolinas and Virginia.
Condition of the nation's cotton crop remains tenuous. According to USDA's latest Crop Progress report, 42% of the crop was rated poor or very poor. Another 29% was rated fair. The worst hit state was drought-stricken Oklahoma with 96% of the crop in poor to very poor condition. Texas, another state suffering from sustained and severe drought, was next with 61% of its cotton rated poor or very poor.
"There is zero dryland cotton being harvested in the high plains (north of Lubbock)," says Austin Rose, owner of Cape and Son, in Abilene, Texas. "A lot of irrigated cotton is being adjusted for insurance purposes." Many growers were unable to give their cotton as much water as it needed with virtually no rainfall to supplement irrigation.
"There won't be any cottonseed exported out of Texas on rail to California or Idaho this year," says Rose. His firm is struggling to fill spot orders for local dairies. Spot cottonseed prices in the Dublin area were bringing $385/ton while clock contracts were selling for $400 to $410/ton. "Even with a short crop, these price levels can't be sustained," notes Rose, particularly with corn prices plunging.
Elsewhere, cottonseed prices have fallen by close to $40/ton as corn prices have plummeted. Texas, which in a typical year accounts for roughly half of the nation's cotton, is already shipping in seed from the Southeast, which virtually never happens, notes Schlee.
"Early reports in the Southeast are that the hurricane (Irene) did damage in the Carolinas and Virginia," says Schlee. In the past three weeks, he says, the expected size of the crop has been reduced by 25 to 30%.
Not every state is having problems, though. In California, 90% of crop is rated in good to excellent condition. Arkansas, Tennessee, Arizona, and Louisiana are also reporting pretty good crops.
"Overall I think we'll see less cotton in USDA's next Crop Production report on October 12," Schlee says. In its September report, USDA estimated the cotton crop at 16.6 million bales producing 5.56 million tons of cottonseed. Last year's supply of cottonseed was 6.2 million tons. "When all is said and done, that number will be less, too," he says.
Drought Likely to Persist
Texas could be embroiled in a severe drought for at least another year, possibly much longer, according to new projections based on warming of water temperatures in the Atlantic and a developing La Niña in the Pacific.
"This coming year looks very likely to be another dry one (for Texas), and consequently it is very likely that next summer will have water shortages and drought problems even more severe than this summer," John Nielsen-Gammon, state climatologist and a professor of atmospheric sciences at Texas A&M University, said this week.
"At this point, all I can say is that we're in a period of frequent Texas drought until further notice," Nielson-Gammon said. "This period, with both the Pacific and Atlantic working against us, might be over in a couple of years, or it might last another 15 or 20 years. It seems likely to last another decade."
While that bold prediction made national headlines, the National Oceanic and Atmospheric Administration said this week that La Niña is expected to strengthen and continue into the winter, which does not bode well for rainfall in Texas, Oklahoma, New Mexico, and southern Kansas for a few months at least.
---