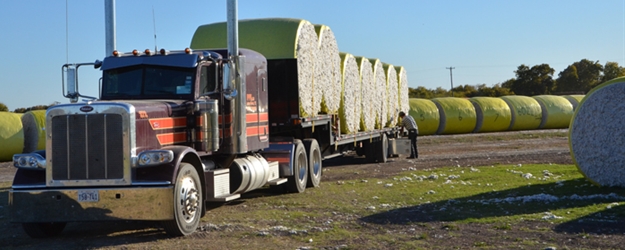 World cotton prices are headed lower. And while that's not welcome news for cotton producers, it could start to move the world's glut of cotton as it competes favorably with synthetic fibers.
"World polyester prices are difficult to foresee, but between 2000 and 2012 cotton and polyester prices generally declined together, and cotton prices typically fell by a larger amount, suggesting a more favorable competitive position for cotton relative to polyester in 2014-15," according to the World and United States Cotton Outlook given at USDA's 2014 Agricultural Outlook Forum.
In the report, USDA researchers note that world cotton prices are expected to drop 10% in inflation adjusted terms over the next crop year.
In addition, the report says that reform of China's cotton policies will allow a greater share of China's spinning industry to produce and sell cotton yarn at a profit.
"This will improve the average efficiency of the global industry, permitting an additional increase in cotton consumption," the outlook states.
New-Crop U.S. Production
The National Cotton Council's survey released Feb. 8 shows U.S. producers plan to plant nearly 11.5 million acres to cotton. The survey includes producer intentions during the period beginning in mid-December and ending in mid-January. U.S. will detail a more recent survey in its March 31 Prospective Plantings report.
National Cotton Council survey respondents reported a slight decrease in cotton acreage in the Southeast but an increase in most of the Delta states, as producers there plant corn fields to cotton.
"Water availability issues and competition from alternative crops are expected to limit upland cotton area in the West," says the report.
The estimated 11.5 million acres of planted cotton is expected to result in 9.7 million harvested acres of cotton, which is an abandonment rate of 16%, slightly higher than the 10-year average of 15%.
Expectations for the Northern Hemisphere
Expected world cotton production of 117 million bales this coming year should be up fractionally from 2013-14 production. A large increase in the U.S. crop will offset production declines in China, Brazil and Australia.
China's 2014-15 cotton output is expected to decline 1.5 million bales as China's government begins to unwind its price support programs and labor costs rise.
India's cotton production of 29 million bales should be unchanged from 2013-14 output, according to the report. India's cotton crop will remain the world's second largest behind China's.
"Producers in India have benefitted from India's currency depreciation since May 2013, which has raised local prices," the report states. "However, due to the timing of the monsoon, Indian producers plant much later than producers in most other Northern Hemisphere countries, which will allow more time for the impact of China's policy changes to affect production decisions."