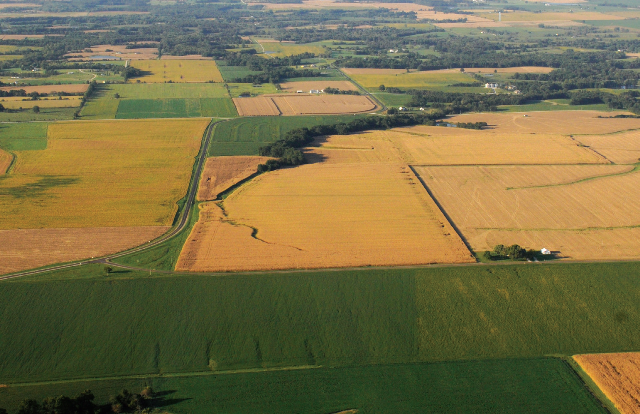 Lower land values and cash rents are on the horizon as low commodity prices pressure farm profitability, according to Brent Bidner, farm manager at Hertz Farm Management in Monticello, Ill.
He believes upcoming land sales in particular will be key indicators of what to expect in 2016. "The story will probably be told in the next 30 to 45 days. There's a lot of land for sale," Bidner said during Allendale, Inc.'s Oct. 27 Ag Leader webinar.
Still, the market for farmland remains stronger than one might expect, given low crop prices. "I think land values are probably only actually down 5%  to 10%," Bidner said. "I think in people's minds it may be lower than that, but we still have some strong buyers."
Small increases in interest rates by the U.S. Federal Reserve, he pointed out, would only marginally affect the land market. Reduced farm profitability stemming from low commodity prices and high input costs would be the main driver of land values and cash rents.
University of Illinois agricultural economists Gary Schnitkey, Bruce Sherrick and Todd Kuethe also argue in a recent study on farmland values that steep losses in net farm income and a decision by The Fed to raise interest rates unexpectedly would be the most probable factors that could push values significantly off their gradual downward 
"If large farmland price decreases do occur in the near future, it is likely that they would be associated with unexpected interest rate increases or additional shocks to expected future agricultural income," according to their "2016 Farmland Price Outlook."
Falling farm profitability, meanwhile, could be opportunities for younger farmers to grow their operations as older farmers exit the industry to prevent loss of retirement savings, Bidner said.
"As people look at cash flows, do people want to take out of their retirement?" Bidner asked. "So, I think there's going to be some opportunities for some younger farmers to grow. But, I also think there will be some consolidation, and some of these other operators are going to get bigger."
What are you seeing in your areas for farmland prices and cash rents? Let us know in the comments.