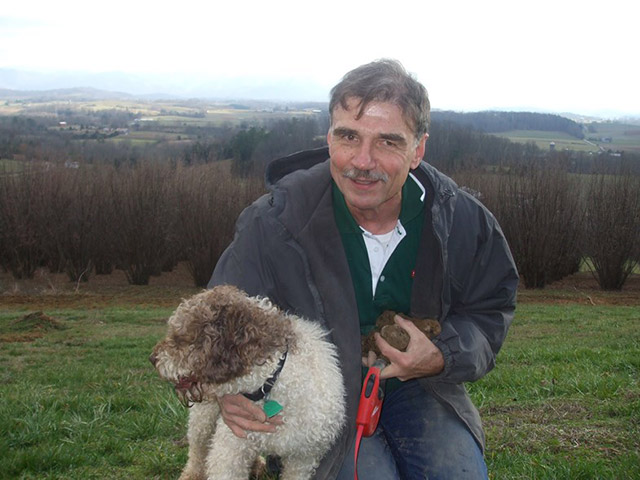 Think truffles are an agricultural sideshow? A billion dollars in demand says otherwise.
U.S. growers are late to the game, but the neck-snapping profit potential is drawing attention from across farm country. Almost 100% of truffles consumed in the United States are imported from Europe and command prices ranging from $150 to $3,000 per pound. Unlock the mysteries behind truffle growth and buyers will eagerly slap down the fiber of green fabric. Cash on the barrelhead for the planet's most prized fungus.
Tom Michaels is the U.S. version of a truffle whisperer and his orchards are proof positive of the gold beneath U.S. farmland. He has waded into proverbial uncharted truffle territory and built a highly successful operation from the ground up as owner of Tennessee Truffle outside of Chuckey. Truffles in Tennessee? Michaels' attempt to grow truffles was initially mocked, but with world class delicacies bursting from his ground, no one is laughing now.
As a boy, he cut his farm teeth shoveling horse manure and building boxes on his father's button mushroom operation. At Oregon State University, Michaels completed a doctorate based on truffle potential and then spent 20 years working in the California mushroom industry. In 1997, his wife took a job in Tennessee, and Michaels took on the role of trailing spouse.
He was struck by how the dirt and climate of eastern Tennessee seemed to parallel the soil of southeast France, the Ur source of high quality black truffles. He rode the hunch, dusted off his graduate school thesis and took a shot at a truffle farm in the foothills of the scenic Blue Ridge Mountains, 10 miles as the crow flies from the Tennessee-North Carolina border. His property is nestled on rolling land in a mix of wood lots, hayfields, tobacco and cattle.
Truffles grow several inches below ground, but require a host tree and gain nutrition from hazelnuts and oaks. In 1998, Michaels inoculated seedlings to get a culture growing on the roots, and turned his backyard into an experiment station with a network of plots, stakes and flags. "I crossed my fingers and limed the hell out of the soil. My neighbor saw 10 dump trucks filled with lime and was in shock," Michaels recalls. "He thought I was a total nutcase."
When farmers watch 40 tons of lime salted over a single acre, the lime might as well be plutonium. But truffle soils need high pH and Michaels recommends starting with grasses and pasture. "You need land that hasn't had competitor trees. Sod, pasture, and hay fields are good places to start."
Michaels bought and rented land in roughly 10-acre sizes, and continued with three more staggered plantings of oaks and hazelnuts, hoping to reap a bonanza of black Perigord truffles, an exquisite, pungent tuber with insatiable demand across the world. After planting, he managed the trees by pruning, spraying, weeding, leaf analysis and fertilization. It was typical grove care, except the crop in other orchards hangs from the trees, yet his was underground. Depending on the host tree variety, Perigords take 6 to 12 years to mature. With the die cast, Michaels began an anxious, near-biblical wait to see if his soil alchemy would bring forth the magical fungus.
Fast forward to January 2007. Michaels was windrowing leaves in his orchard and froze in mid-step, foot in the air, as he recognized the telltale blistering of truffles breaking the surface. Crop gold. About a foot away, another truffle had pooched up. Another foot, a third truffle. Eureka. Almost $600 in truffles literally at his feet.
It was a 5 lb. haul within days, but Michaels' focus was on growing and he hadn't given a thought to marketing. His girlfriend, Knoxville native Vicki Blizzard, grabbed the yellow pages and made a blind call to The Orangery, a Knoxville restaurant acclaimed for its haute cuisine. To executive chef Chris Stallard, Michaels may as well have claimed to be in possession of the Holy Grail. "Local Perigord truffles? He thought I was crazy or a liar, but agreed to let me come in," Michaels recalls.
Secured in a plastic Tupperware container and iced in an old Styrofoam fish box, Michaels took his truffles into the posh eatery and opened the tub. The aroma took over the room and the chef was stunned. All doubts died. Period. Full-stop. Cash in hand, he walked across the street to Le Perigo, another gourmet restaurant and entered cold – no phone call. Repeat performance. Michaels strode into the kitchen, peeled back the lid – and chef Cedric Coant, with a heavy French accent, immediately became a fount of praise. Once again, Michaels walked out the door with his bankroll bulging. Third stop: the famed Blackberry Farms resort at the foothills of the Great Smoky Mountains. Michaels opened his magic box for renowned chef John Fleer and loosed a world class, earthy perfume. The line chefs froze. Kitchen activity ceased. The exquisite properties of truffles are all in the nose and Michaels' Perigords exploded with aroma.
Serendipity smiled with a toothy grin. Molly O'Neill, the New York Times food writer, was visiting Blackberry the same day and was taken with the truffles. With no promotion or horn-blowing, Michaels found himself on the cover of the NYT food section, opposite Paula Dean. His truffle operation was on.
Ax the Middleman
As a child, Michaels watched his father, Joe Michaels, get ripped off by Chicago mushroom middlemen. In 1959, Joe burned his broker bridges and scalded the road to make his own mark. Selling direct turned the mushroom operation around and tripled profits. Michaels has followed the same direct path as his father, taking personal care of a stable of restaurants. Although he could sell the same day of harvest, Michaels lets each truffle rest overnight in an individual container. Each specimen has a slightly different aroma and chefs have different preferences. "I deliver truffles tailor-made for a chef's individual tastes. It's where farm-to-table pays off in spades," he says. "And it's still only 36 hours from the ground to the kitchen with my truffles, but weeks and weeks for European imports."
Michaels sets his truffle price at the beginning of each year and keeps it constant in order for chefs to plan and budget. He's consistently at $800 per pound for the best Perigords. When Michaels spreads truffles on the counter, chefs don't quibble over price.
The cuisine is high-end, but the science of truffle farming is primitive. Per acre, a grower might expect 40 tons of sugarbeets, or 20 tons of potatoes or onions. Yet, Michaels might pull in 35 lbs. of truffles per acre, a chasm of difference. Truffle growth is theory and it ranks as the toughest crop in agriculture. Farmers know the macroelements needed to make given crops grow. Not so with truffles. No one yet knows the optimal amount of nitrogen and phosphorus to apply. And even if they do – they ain't talking. Bottom line: If a grower is seeking control and regimen, stay away from truffles.
Michaels uses a Lagotto Romagnolo dog during harvest, a water dog from northern Italy specifically bred for truffle hunting, and trained with truffle oil applied to the mother's teats. When his dog hits (typically anywhere from 1" to 6" below the surface), Michaels uses a trowel to dig out golfball- to baseball-sized truffles, averaging 1 oz. in weight. (And yes, Michaels has committed the great abomination, working in haste and slicing through a precious specimen.)
"I'm delighted if my orchards produce 200 lbs. in a year. Sometimes the hardest part of my situation is telling buyers no when I don't have enough," Michaels says. "I wish there were more truffle growers because the market is waiting."
Black Diamonds
The global truffle industry is fraught with hijinks and theft. Values are too extreme for the high-stakes scenario to be otherwise. The insatiable demand swirling around truffles played out in a French courtroom in 2015. On the night of Dec. 20, 2010, producer Laurent Rambaud slipped multiple shells into the chamber of a pump-action shotgun and slipped into his orchard under cover of darkness. He suspected thieves would be digging again in his southeast France dirt, intent on stealing agriculture's version of black diamonds. Fait accompli. He found convicted thief Ernest Pardo wandering through the trees and shot him twice. Murder? Self-defense? In 2015, Rambaud, 38, head of a young farmers' association, was sentenced to eight years for manslaughter. Truffles can make the man – or in Pardo's case, kill him.
Current import volume of European truffles into the U.S. is 15 to 20 tons annually, estimates Charles Lefevre, founder of New World Truffieres, Inc., in Eugene, Ore., and co-founder of the Oregon Truffle Festival. "The price range is far wider, but let's arbitrarily establish a crude price of $800 per pound. That's $800 times 15 to 20 tons. We're talking about a large amount of U.S. money leaving for the European agriculture industry."
Lefevre served as president of the North American Truffling Society for almost 10 years and is highly respected as an authority on North American truffles. He's published a litany of research articles and routinely speaks around the U.S. on truffles and truffle cultivation. U.S. production doesn't merit mention in global demand coverage, but Lefevre says truffles can be an ideal crop for U.S. small farms – regardless of location: "It doesn't matter where you are; there is a truffle to fit your climate in the contiguous U.S."
He emphasizes the necessity of well-drained soil for truffle cultivation. Lefevre earned a doctorate in forest mycology from Oregon State University and began operation at New World Truffieres in 2001, shipping trees across the country and helping prospective truffle farmers get off the ground. New World Truffieres inoculates hazelnut trees with truffle spores and has farmer customers in almost every state. Lefevre estimates truffle investment at $12,000 to $14,000 per acre to establish an orchard. Inoculated trees can amount to 50% of the overall cost, with irrigation and soil preparation accounting for other expenses.
New World Truffieres has a dozen orchards around North America producing three different European truffle species: Perigord, Burgundy, and Italian Bianchetto truffles. "Different truffle species fit best depending on location," Lefevre advises. "For Midwest states with colder winters where the ground freezes, the best option is the Burgundy truffle."
The Burgundy truffle, according to Lefevre, is an excellent bellwether of truffle potential to U.S. farmers. After weeks of travel from European orchards to U.S. dinner plates, the quality is significantly diminished, but Burgundies still sell from $150 to $450 per pound. The nose and palate call for burgundies two to three days after harvest, essentially impossible with imports. Yet, a truffle harvested in Ohio can be served in New York on the same day – a direct avenue to higher values. "The quality we can produce locally is superior to anything we can import," Lefevre says.
He projects truffle orchard maintenance costs at $2,500 per acre, similar to apple orchards. Weed control, pest control, irrigation, pruning, and soil nutrient concerns must all be part of professional management. "You can't just sit back and let the crops make money. That's impossible and doesn't fit any crop. Orchards need care from producers who know how to tend land."
Lefevre says truffle production has become an attractive opportunity for growers throughout the contiguous states. "People who make their living farming have a real advantage over the lifestyle farmers who have pioneered the truffle industry so far."
He owns two Lagotto Romagnolo dogs, trained at 10 weeks old with truffle scented cotton balls. When Lefevre took the pair on their first truffle hunt, no commands or retraining were necessary. The dogs took to truffling instantly and can smell truffle pheromones from 100' away. He regularly takes the dogs hunting for native truffles in the tidy, Douglas fir woods around Eugene, but make no mistake: Lefevre is a true believer in the future of ordered, domestic truffle farming. "Does tomorrow look strong for the U.S. truffle industry? Truffle farming is only beginning to grow and will expand dramatically in this country. The answer is an absolute yes."