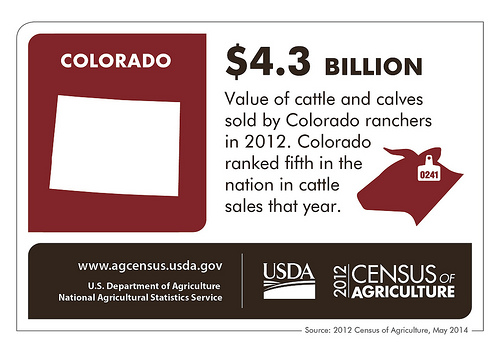 Colorado ranks in the top five for cattle sales nationally.
By: Bill Meyer, Mountain Region Director, National Agricultural Statistics Service

Here in Colorado we take our farming seriously and the results of the last Census of Agriculture only reinforce that.
As of 2012, we now have almost 32 million acres of farmland, up slightly from the last census, conducted 5 years ago. Our farmers and ranchers sold nearly $7.8 billion worth of agricultural products in 2012. That's an impressive 28 percent increase from the 2007 Census.
Colorado agriculture is diverse, with almost every sector represented. Unlike most of the states, however, it is our livestock rather than the crops that rule our farm scene. Cattle is Colorado's #1 commodity, with more than 2.6 million head counted in the 2012 Census and more than $4.3 billion worth of cattle sold.
We also have large numbers of sheep and goats. The Census counted more 400,000 head of sheep and goats in Colorado, with the sales of sheep, goats, wool, mohair and milk from these animals surpassing $87 million in 2012. Only two states had greater numbers of sheep and goats that year.
Just because our livestock industry dominates our farming sector, however, doesn't mean that our crop industry should be ignored. Our growers have amazing accomplishments of their own. For example, those of you who enjoy sunflower seeds or like to cook with sunflower seed oil will be happy to know that Colorado growers produced more than 52.5 million pounds of sunflower seeds in 2012, placing us in fourth place in the nation.
On the vegetable side, our growers harvested nearly 60,000 acres of potatoes in 2012 and more than 1,500 acres of cabbage. These two crops were our state's leading vegetables in 2012. On top of these, our farmers also harvested more than 2,700 acres of peaches and 1,300 acres of apples showing that our fruit industry is doing great as well.
The 2012 Census added to our knowledge about Colorado farming and historical trend lines.  That said, we are already preparing for the 2017 Census of Agriculture and wondering what it will tell us about our state's farm industry. I'm sure even more exciting times are ahead, as the sky's the limit for our 36,180 farms.