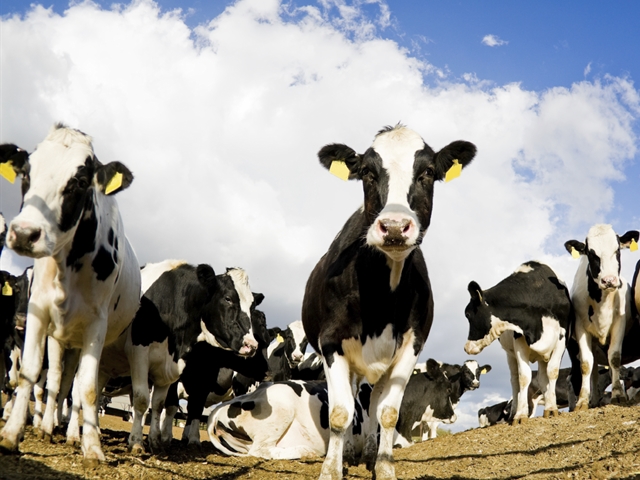 More cows than people live in northern Colorado's Weld County, yet this wind-swept prairie led the nation's big counties in job growth thanks to agricultural production coupled with an energy boom.
A new cheese plant, along with oil and gas drilling and wind turbine manufacturing, boosted employment in the county 7.5 percent in the year ended March 2014, according to data from the Bureau of Labor Statistics on the 339 counties with the most jobs. It was the second consecutive top ranking for the largely rural, 4,000-square-mile county, which had a 6 percent gain in December 2013 from a year earlier.
While the largest employment increases were in mining and construction, officials in Greeley, the county seat, have sought to diversify the region's economic base even as development of the nation's sixth-largest oil reserve intensified.
The Weld Counties of the nation have been key in driving U.S. employment gains, building on natural resources and agricultural production as a more widespread labor-market recovery took hold, economists say. The broadening of the economic base will help provide a buffer as oil prices drop.
"You see some metros being able to convert the growth that comes from the oil and gas sector into broader economic growth like Greeley," said Minoli Ratnatunga, an economist at the Milken Institute, a nonprofit research center based in Santa Monica, California. "We saw that both in large cities like Houston and in smaller cities like Fargo and Bismarck."
Best-Performing Cities
Greeley, population about 96,500, jumped up 32 places between 2012 and 2013 to number 10 among best-performing cities on how well they create and sustain jobs, according to the Milken Institute. That was behind better-known counterparts such San Francisco and Salt Lake City.
Wages in smaller regions nationwide also grew more quickly than salaries in metro areas in the last 12 years, according to data compiled by Bloomberg.
Payrolls in Weld County, with a population about 269,700, are rising as it grapples with a labor shortage driving up employment costs in industries from farming to energy production, according to interviews with employers.
Wages have climbed about 20 percent in the two years since AJ De Jager moved his family to Ault from central California to open a 1,200-acre dairy which employs 37 workers, says the experienced dairyman.
"When I started here, I had daily walk-ins with people looking for jobs," said De Jager, whose 3,000 cows produce 30,000 gallons of milk a day. "Now I've gone online looking for employees for the first time ever."
Cheese Plant
Milk from De Jager's cows is among the 100 semi-truck loads a day consumed at a Leprino Foods Co. cheese plant in Greeley, which supplies much of the mozzarella used by Domino's, Pizza Hut and Papa John's. The factory, completed in March 2013 with 120 miles of stainless steel piping from local suppliers, provides 400 manufacturing jobs in the region.
Proximity to such a large customer helped attract De Jager, a third-generation dairyman. Likewise, the local dairies were a draw for Leprino Foods, said Mike Reidy, senior vice president, corporate affairs for the Denver-based company.
"This plant runs 24 hours a day, seven days a week -- we work closely with milk suppliers to provide what we need," said Reidy. "Cows don't ever take a vacation."
The county's largest private employers reflect its diverse economic base. Beef processor JBS USA is the biggest with 4,619 workers in 2013, according to Upstate Colorado Economic Development, a Greeley-based nonprofit. Other top industries include health care, insurance and call centers.
Driving Growth
Even with diversification, energy production is driving the county's job growth. Since 2010, when the shale-oil boom began in the Niobrara formation, Weld employment has risen 21.5 percent, according to the Colorado Department of Labor and Employment.
Anadarko Petroleum Corp., the county's seventh-largest employer in 2013 with 500 workers in the Wattenberg Field, will have invested $2 billion this year in the region, said Alex Hohmann, Denver-based stakeholder relations manager.
Nationally, natural resources and mining, which includes oil and gas production, recovered its pre-recession level of jobs by 2011, earlier than other industry segments, according to the BLS. Employment in support services for oil and gas operations surged 70 percent since the U.S. expansion began in June 2009, while oil and gas extraction payrolls have climbed 34 percent.
Job Creation
Each job in the oil and gas patch creates 1.4 positions elsewhere in the local economy, a pattern played out in counties in Texas, Louisiana, Arkansas and Oklahoma, according to a study by Jeremy Weber, an assistant professor at the University of Pittsburgh. On average, the boom county had 1,700 more jobs than non-boom counties and about $69 million more in wage and salary income, he said.
The BLS will release an updated quarterly report tomorrow on employment and wages of counties with average employment levels of 75,000 or more.
Alternative energy also helps generate jobs in Weld County, with three of Copenhagen-based Vestas Wind Systems' North American manufacturing facilities located there.
A factory in Windsor expanded for a fifth time in 2014 and now employs 1,000. A sister plant in Brighton opened this year with 900 workers, and there are 300 in another.
"Our production is very labor intensive, it's an absolute must to have access to a good schooled work force," said Hans Jespersen, vice president and general manager of the Windsor facility.
Trading Employment
Weld County's industries trade off employment growth over time. County managers are experienced in the oil industry's boom and bust cycles and are broadening the economic base and building the reserve fund, said County Commissioner Barbara Kirkmeyer.
About 50 well-drilling rigs operate in the county, each producing about 150 associated jobs and benefiting other businesses, she said.
The ubiquitous cows in Weld County -- which places second in the nation with a half million head of cattle and calves -- are also doing their share as an economic engine. Restaurants in Fort Lupton, a town of about 7,600, "are packed because we have a lot of ag folks in the region and they are going out to dinner again," she said.