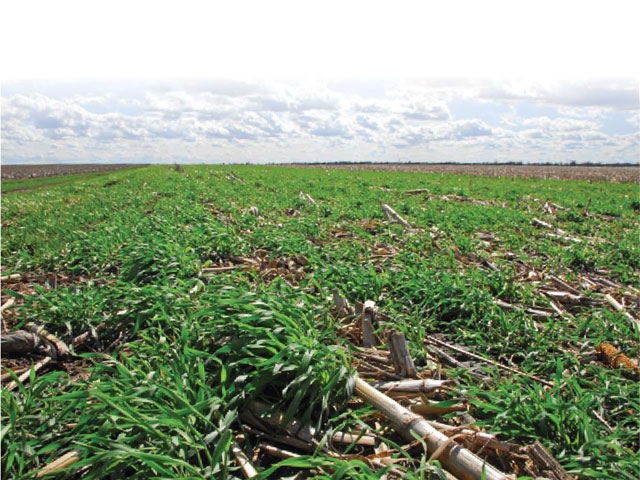 Measurable improvements in soil health are showing up in side-by-side trials
Side-by-side strip trials over several clients' fields suggest soil health improvements from cover crops might show up faster than expected, says Farm Journal Field Agronomist Ken Ferrie. After only one year of cover crops in a corn–soybean rotation, he has documented improvements in microbial activity, carbon storage and water infiltration.
But getting to the point of actually measuring results was somewhat of a detective adventure. Reviewing yield maps and soil tests from thousands of acres, year after year, left Ferrie and his staff puzzled why some fields or parts of fields refused to yield with identical soil types. 

For example, in one field of Drummer silt loam soil, 15 years of yield maps proved one area was not keeping up with the rest of the field. 

"Over that period, the poor-yielding zone averaged 28 bu. per acre less corn," Ferrie says. "The difference ranged from only 5 bu. per acre in 2015 to a whopping 90 bu. per acre in 2012, which was a drought year." 

In that field as well as others, Ferrie and crew fixed the obvious problems, such as pH, fertility, compaction and drainage in the low-yielding zones, and eliminated disease or insect pressure as the cause of the yield difference. 
"Those were easy fixes," he says, "but the areas still lagged behind in yield. We could see something was different in the low-yielding zones—appearance, soil structure, even the odor—compared to the higher yielding area. Finally, there was no other explanation except soil health."
Using various soil health tests, Ferrie documented a correlation between soil health and high and low yields. The higher-yielding areas always scored higher for soil health: 
One test showed there was 23% more microbial activity in the healthier, higher-yielding soil than in lower-yielding soil in one field. 
A one-day carbon burst test, conducted in a lab, was used to measure the amount of carbon dioxide released from soil in 24 hours as a result of microbial respiration. As the amount of available carbon—one characteristic of a healthy soil—increases, microbial respiration increases. 
"In the one-day carbon burst test, we found 45% more respiration in the higher-yielding soil," Ferrie says.
A third test, performed in Ferrie's office, used carbon dioxide sensors, manufactured by Vaisala Corporation, to measure the carbon dioxide released during a nine-day period. "We found 39% more carbon dioxide was being released by the healthy soil," he says. 
"Measuring carbon dioxide released by the soil, using several tests, told us the higher-yielding soil had more microbial activity than the lower-yielding soil of the same type in the same field," Ferrie summarizes.
The higher-yielding, healthier soil had 10% more water-holding capacity and 16% more water-filled pore space than unhealthier soil of the same soil type in the same field. "All these things are byproducts of microbial activity," Ferrie says.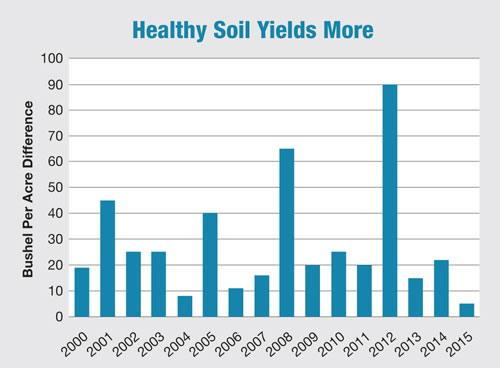 Sixteen years of yield maps showed some areas of a field  of Drummer soil consistently outyielded other areas. After  eliminating all other possible causes of lower yield (fertility,  pH, compaction, drainage, disease and insects), Farm  Journal Field Agronomist Ken Ferrie concluded the lower  yield was caused by poor soil health.
The experience ignited Ferrie's passion to learn about soil health and how to improve it. Cover crops and no-till were logical first steps, but documenting the results were challenging. 

"Many of the tests used to document soil health produce varying results during the growing season and from one year to the next," Ferrie says. "That's because they measure biological processes in the soil, which are affected by many factors, such as weather and the previous crop. 

"Numerical scores from soil health tests can vary from day to day during the growing season. I'm not sure we will ever get numerical scores we can compare from one year to the next. We needed another way to see if our soil health practices made a difference."

Side-by-side strip trials are proving to be the answer. Ferrie uses soil health tests to study the impact of cover crops in many fields, where both strips—with and without a cover crop—are affected by the same weather, previous crop, etc.

After five years of strip trials across his customer base, Ferrie has learned: 
"The results differ by farm, soil type and cover crop, but our side-by-side trials show one year of a cover crop gives about a 22% increase in the amount of carbon dioxide released in 24 hours," Ferrie says. "After two years of growing a cover in the same spot, we are seeing an increase of 31% to 33% in the one-day CO2 'burst.'"
A water-soluble carbon test measures the total available water-extractable organic carbon in soil (a pool of carbon roughly 80 times smaller than the amount of soil organic matter). This organic carbon pool is the energy source that drives soil microbes.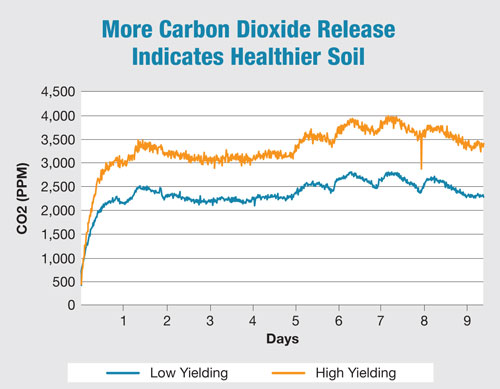 In this study, capturing the amount of carbon dioxide  released by microbial activity in higher- and lower-yielding  areas of the same soil type and in the same field showed  the higher-yielding soil was healthier. 
"After one year of a cover crop, we found an 8% increase in water soluble carbon," Ferrie says. "After two years, we found a 27% increase."
Using a calculation that produces a soil health score based on various tests, Ferrie obtained an 8% higher score after one year of cover cropping. After two years, cover crops produced a 19% increase in the soil health score. 
With water infiltration, the amount of improvement varied by soil type. "But there was always a measurable increase," Ferrie says. "The greatest improvement we found was an increase in water infiltration from 1.1" per hour to 2.86" per hour. The smallest improvement was from 2.4" to 2.86" per hour."
Cover crops also are impacting the soil's carbon to nitrogen ratio. "The carbon to nitrogen ratio increased 5% in the first year of cover cropping and 21% in the second year, compared to an untreated strip," Ferrie says. 
The higher carbon to nitrogen ratio indicates cover crops are storing more carbon in the soil. That results mainly from the cover crop's root mass, as well as the above-ground vegetation, and it's a good thing. "But remember a higher carbon to nitrogen ratio puts pressure on crops like corn early in the season, because of nitrogen tie-up," Ferrie notes. "Be sure to provide some nitrogen for the young plants early in the season, to protect them from this carbon penalty. 

"We have much more to learn about using cover crops to improve soil health," Ferrie says. "Various covers will have different impacts in different regions of the country. But I'm becoming confident we are moving the needle from a soil health perspective. Our trials seem to indicate that it won't take quite as long as we thought to make a measurable difference in soil health."

So far, Ferrie's strip trials have not produced a consistent yield benefit. "I think one will eventually show up, as soil health improves," he says. "This will be very important because farmers, especially in cash rent situations, need to know how long it will take for them to recover the costs of improving their soil's health."

A long-term nationwide series of strip trials similar to Ferrie's is being conducted by the Soil Health Partnership (www.soilhealthpartnership.org), an initiative of the National Corn Growers Association. It should shed some light on yields and costs, as well as soil health benefits, Ferrie notes. "This effort looks like it will produce valuable information," he says. 
Building on the Systems Approach, the Soil Health series will detail the chemical, physical and biological components of soil and how to give your crop a fighting chance.
www.FarmJournal.com/soil_health
---
Cover Crops Might Suppress Waterhemp
Although it's not directly related to soil health, Farm Journal Field Agronomist Ken Ferrie was pleased to document a weed suppression benefit from his cover crop studies in 2016. "If a cereal rye or cereal rye–radish cover crop mixture, planted ahead of soybeans, was thick enough when we killed it, there was a noticeable reduction in the waterhemp that escaped our herbicide treatment," he says.