Plan when to kill a cover crop and manage the potential carbon penalty to prevent mistakes that could reduce yield
Cover crops can do wonders for soil health. But sound management is just as critical with cover crops as it is with cash crops such as corn, wheat and soybeans. With cover crops, the most common mistakes farmers make are failing to kill the cover crop at the right time and failing to manage the carbon penalty resulting from increased residue, says Farm Journal Field Agronomist Ken Ferrie. To learn more about how to maximize cover crop benefits, Ferrie conducted a study in 2012 with seed arranged by conservation farming consultant Dan Towery of Ag Conservation Solutions in West Lafayette, Ind. Ferrie shared his findings at Farm Journal Corn College this past July.
Following a wheat crop (and after the straw was baled and removed), Farm Journal Field Agronomist Ken Ferrie planted a variety of cover crops. In some of the plots, the wheat residue was tilled and incorporated before planting corn. In other plots, the wheat residue was left untouched and corn was no-tilled into the field.
---
While there was moisture to germinate the cover crops and the cash crops that followed, the weather got gradually drier after planting. Ferrie and Towery agree the results might be different in a wetter season.

In the study, a variety of cover crops were planted following a wheat crop, in which the straw was baled and removed. In some plots, the wheat stubble was tilled in the fall and leveled before planting the cover crop. The following spring, the cover crop was incorporated with a vertical harrow before planting corn. In other plots, the wheat stubble was left untilled; in the spring, corn was no-tilled directly into the cover crop and wheat stubble residue.

The need for management arises because some cover crops impact the carbon penalty. The carbon penalty results when corn is planted after a crop that produced large amounts of residue with a carbon/nitrogen (C/N) ratio higher than 30/1, such as corn or wheat, or some cover crops, such as cereal rye.

Cover crop residue with a high C/N ratio adds a fresh helping of carbon in the spring, in addition to what's already present from the previous crop. With that carbon-rich food source, the soil microorganisms that decompose residue increase rapidly. They use nitrogen from the soil, immobilizing it. If the timing is wrong, and if the nitrogen is not managed correctly, this can create a temporary nutrient shortage for young corn plants.
Nitrogen tie-up. The nitrogen taken up by microbes becomes available later, through mineralization, which can be affected by moisture and temperature. Immobilization and mineralization of nitrogen occur simultaneously in the soil, Ferrie explains. But, at various times, there is either net immobilization or net mineralization
Net mineralization late in the growing season, as nitrogen from cover crops becomes available, is beneficial to the corn crop. The amount and type of residue produced by the cover crop determines how soon it becomes available. In the 2012 study, the date the cover crop was killed was a big factor determining the onset of net nitrogen mineralization.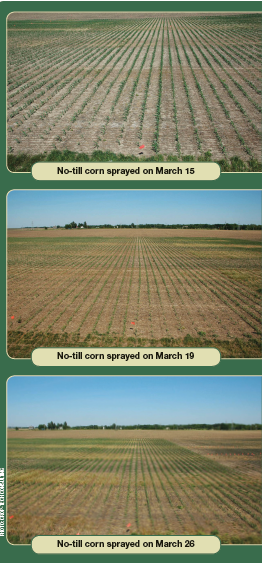 The effect of the carbon penalty was more pronounced in no-till corn following a cover crop planted into wheat stubble than it was in fields that had been tilled.
---
Ferrie tracked how long it took for the nitrogen in the various cover crops to reach a stage of net mineralization. Some of the cover crops winterkilled and were already dead at planting time.

Others were killed with a herbicide on three separate dates.

"We used soil nitrate tests to track net mineralization," Ferrie says. "In a block where we killed the grass cover crops on March 19, net mineralization did not show up for 60 days. The cover crops that had winterkilled showed net mineralization by March 29."

"That's pretty typical for cover crops that winterkill," Towery adds. "It's important to understand that this mineralization occurred before the drought set in."

With annual ryegrass covers, which were killed in the spring, Towery believes the lack of rainfall and soil moisture had a much more significant impact on nitrogen availability. "The extremely dry weather resulted in much less mineralization following annual ryegrass than would have occurred in a normal year," he says.

Where Ferrie killed annual ryegrass on March 15, net mineralization showed up in about 40 days. Where he killed it on March 26, net mineralization didn't occur for approximately 125 days.

"That's because the carbon content increased as plants continued to grow," Ferrie says. "One week made a huge difference because of the increase in tonnage and C/N ratio."
Dry weather damper. Towery believes the delayed nitrogen mineralization following an annual ryegrass cover crop was a one-year phenomenon, caused by extremely dry weather.

"Annual ryegrass is a nitrogen scavenger, and has a relatively low C/N ratio—as low as 17/1 if you burn it down early," Towery says. "Because the annual ryegrass was planted into wheat stubble, it may not have taken up much nitrogen because there wasn't much in the soil to begin with—possibly less than 20 lb. per acre. I've seen annual ryegrass take up much more nitrogen than that—90 lb. to 120 lb. per acre, depending on field history.

"The low C/N ratio of annual ryegrass means that typically 50% to 75% of that nitrogen becomes available to corn plants six to 10 weeks after it is killed in the spring—in late June or early July," Towery continues. "Often, corn fields following an annual ryegrass cover will be dark green, or even almost black in July. That has to be from the nitrogen mineralized from the annual ryegrass, and the absence of a carbon penalty, resulting from the crop's low C/N ratio.

"In the study, I think the soil was so dry and hot in late June and July that normal nitrogen mineralization did not occur," Towery says.

While conclusions should never be drawn from only one year's research, Ferrie says the study illustrates how important it is to understand the effect of the carbon penalty and manage appropriately.

The photos at right, taken after corn was planted, show the impact of the penalty. "Think about what you have in each field when you plan your nitrogen program," Ferrie says. "Following a cover crop with a higher C/N ratio, you must make nitrogen available to the young corn plants during the period of net immobilization. You can do that by making a preplant surface application or by applying nitrogen with your planter."
Ready to plant. When planting corn, the biggest issue with cover crops is the kill date, Ferrie says. Even though there are several benefits to letting a cover crop grow longer in the spring, you must consider the impact that the additional growth will have on the carbon penalty for the next crop, and manage the availably of nitrogen accordingly.

Monitor soil moisture levels, and take them into account when determining when to kill your cover crop, Towery advises. You don't want the cover crop to use soil moisture that will be needed for early crop growth.

Soybeans are another story. They showed little effect from any of the cover crops, whether tilled or no-tilled. "We don't have to worry about the carbon penalty with soybeans," Ferrie says. "Also, soybeans, unlike corn, don't seem to suffer from an allelopathic effect."

"Planting cereal rye as a cover crop ahead of soybeans is a good option," Towery suggests.

"Cereal rye can get much taller (with a C/N ratio of 37/1 or higher, depending on maturity), as long as it isn't taking a toll on the soil and drying it out too much. Soybeans don't care if the nitrogen is tied up. Some of the nitrogen will be used to build organic matter, and some will be mineralized the following year."
Typical Carbon/Nitrogen Ratios
Here's a rundown of carbon/nitrogen (C/N) ratios for several cash and cover crops, according to conservation farming consultant Dan Towery:
Corn stalks: 57/1
Soybean residue: 18/1
Annual ryegrass: 17/1
Vegetative cereal rye: 26/1
Cereal rye at flowering: 37/1
Cereal rye straw: 82/1
Crimson clover: 15/1
Hairy vetch 11/1

As a standard of comparison, sawdust has a C/N ratio of 250/1.
---

Head back to the classroom and out to the field with Farm Journal agronomists and other experts at these 2013 summer training events. The hands-on sessions arm attendees with tips they can take home to improve yields and boost profitability—acre after acre.
Corn College Consultant/Retailer Session
Heyworth, Ill.
July 15 Coldwater, Mich.
July 29 (with bonus soybean sessions)

Corn College Advanced
Heyworth, Ill.
July 16 (one-day session)
July 17–18 (two-day session)

Corn College Grad School
Heyworth, Ill.
July 23 Corn College Fundamentals

Coldwater, Mich.
July 31–Aug. 1Soybean College

Coldwater, Mich.
July 30
For details and to register, call (877) 482-7203 or go to www.FarmJournalCornCollege.com
---
For more cover crop management tips, including more photos from the study mentioned in the story, visit www.FarmJournal.com/cover_crops
You can e-mail Darrell Smith at dsmith@farmjournal.com.