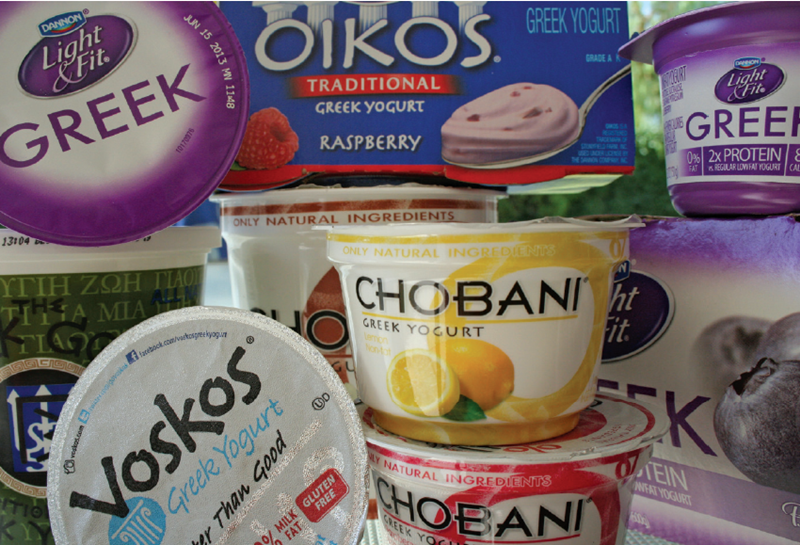 Greek yogurt triggers new dairy demand, but are dairy producers profiting?
When Chobani founder Hamdi Ulukaya set out in 2005 to create his American brand of Greek yogurt, the Turkish immi­grant and his small team spent 18 months perfecting the quality and taste of their creamy, protein-rich dairy product.
And how that perfectionism has paid off.

Chobani has since become the top-selling Greek-yogurt brand in the U.S., and the company has exploded into a $1 billion business. Helped by its high-visibility role as a 2012 Olympic sponsor and its social media fan base, Chobani is almost synonymous with the Greek yogurt boom.
---
Bonus Content
How Chobani Sees It

(see below)
---
But Chobani isn't the only player reaping Greek yogurt's mounting rewards. Yogurt brands like Dannon, Fage, Yoplait and a host of others also are seeing success with dairy's new rising star.

Just eight years ago, Greek yogurt accounted for only 2% of the U.S. yogurt market. Today, it comprises an estimated 40% of the $6.5 billion yogurt retail sector.

In 2012, the U.S. produced 4.4 billion pounds of spoonable, or non-frozen, yogurt. That required 5.7 billion pounds of cows' milk, or about 3% of the U.S. milk supply, says Andrew Novakovic, a Cornell University dairy economist. About one-third of that made its way into Greek yogurt.

What makes Greek yogurt different from its conventional shelf-mates is its lower water content. The Greek yogurt process strains much of the whey from the milk. The result is a thicker, higher-protein product that—with its health halo, tangy taste and versatility in recipes—"is a new way to enjoy yogurt," says Michael Neuwirth, senior director of public relations with The Dannon Company.

Moreover, Greek yogurt requires 3 lb. of milk for every 1 lb. of finished product. "Forty percent of the market using three times the milk is a very positive evolution for the producer community," Neuwirth says.
But is Greek yogurt's increased milk usage translating into real profits for U.S. dairy producers? It depends on where they're located. Yogurt, like other Class II products, tends to be made where milk production is large and major cities are nearby.

New York state is a good example. Thanks in part to Chobani's New Berlin plant opening in 2007, the state was named "America's Yogurt Capital" last year after surpassing California as the nation's top yogurt producer. From 2007 to 2012, New York's yogurt plants nearly tripled in production to 692 million pounds, says Gov. Andrew Cuomo's office.

During that same five-year period, the amount of milk used to make yogurt in New York increased sharply, from 166 million pounds to about 1.7 billion pounds. Since 2000, the number of New York yogurt processing plants has nearly doubled to 27. Another major plant, Muller Quaker Dairy in Batavia, N.Y., will begin yogurt production this year.

Most of New York's increased production is due to the rise of Greek yogurt, Cuomo's office adds.

Those may be exciting numbers, but New York's yogurt boom carries what dairy economist Novakovic calls "the Chobani paradox."

"While it is certainly true that growth in the yogurt sector in New York is a very positive development, the benefit is likely not as large as seems to be widely perceived," he says.

The primary benefit stems from direct plant employment and the resulting economic contributions to the local community, Novakovic says. While dairy farmers gain increased market security and reduced transportation costs, he says there is only a small effect on the price of milk, which is largely determined by national pricing factors.

"Premiums to Class II are definitely a lift in New York and the Northeast, but Class I remains our biggest single outlet and pays comparable premiums," Novakovic says. "A lot of Class III and some Class IV also pay premiums here, although generally a lesser amount. Hence, the pure price bump, while positive, isn't so big."
It's different in Idaho's Magic Valley, where the Chobani effect has added an extra $135 million to dairies' bottom lines, says Rick Naerebout of the Idaho Dairymen's Association.

The construction of Chobani's new yogurt plant in Twin Falls last year had a significant impact on local dairies even before the company acquired a single drop of milk. Within four months of Chobani's December 2011 announcement that it would build the $450 million facility, two major Idaho processors changed their pricing formulas to improve the pay price for dairy producers. It was welcome news for Idaho dairies, which typically compete with California for the lowest U.S. milk price.

"Overall, Idaho's competitive position improved by more than $1 per cwt. in 2012," Naerebout says. "The pay-price dynamics changed completely because of Chobani's impact and the concern of other handlers about the new competition for milk. And 2013 prices are shaping up to be much like last year."

Chobani's Idaho plant, the world's largest yogurt processing facility, uses 1.5 million pounds of milk per day, all supplied by Magic Valley dairies through Dairy Farmers of America. That amount is below the plant's 10 million pound capacity, but Chobani expects to grow its output.

Other manufacturers plan to do the same. Although yogurt remains a small part of the overall dairy market— well behind cheese and milk—Dannon sees a huge oppor­tunity for U.S. yogurt growth, Neuwirth says. Already the nation's No. 2 Greek yogurt maker and the leader in the overall yogurt market, Dannon has added significant capa­city at its three plants in Texas, Utah and Ohio to make more Greek yogurt.

"From a consumers' perspective, we see a future in which Greek yogurt plays a more prominent role in the dairy aisle than it does today," Neuwirth says.

The development of a milk-hungry product with room to grow should be a heartening prospect for U.S. dairy producers, who face record milk production next year. It wouldn't be the first time an upstart transformed the dairy aisle. Just ask Chobani.
How Chobani Sees It
Did Chobani launch the Greek yogurt boom or did it capitalize on a product whose demand was already on the upswing?
Chobani spokeswoman Lindsay Kos says it was the company that sparked the Greek yogurt revolution in America.
"Greek yogurt was available in America for over a decade before Chobani hit shelves, but it was confined to higher-priced, gourmet stores," Kos says. "Chobani launched in 2007 with the goal to make great-tasting Greek yogurt available to consumers everywhere and sought to get into major retailers so that everyone, from Walmart to Kroger to Safeway or Whole Foods, could enjoy authentic strained Greek yogurt."
Today, Chobani produces its Greek yogurt products at two U.S. locations. Its first plant, in New Berlin, N.Y., ships more than 2 million cases of product per week. It's the largest dairy manufacturer in New York State. Chobani is also the state's biggest consumer of Class II milk. It takes in some 4 million pounds of milk per day from 850 dairies in New York and neighboring areas. The plant needs the milk of 60,000 cows producing 65 pounds or more per day.

Chobani's second and newest plant opened in December 2012 in Twin Falls, Idaho. Built in 326 days following a $450 million investment, the plant spans 1 million square feet. It uses 1.5 million pounds of milk per day, an amount that's growing as the plant ramps up production. There are more than 600 employees at the plant, but its construction has led to almost 1,000 induced and indirect jobs, Kos says.
"It's no surprise that Americans have a palate for Greek yogurt, just as other countries have enjoyed for centuries," she adds. "Greek yogurt not only tastes great but is good for you."
It's good for Chobani too. The company generated approximately $1 billion in sales for 2012. "All signs point toward an increase for 2013," Kos says.
 
America's yogurt production has grown by more than 3.5 billion pounds since 1989. Much of the increase since 2007 is attributed to Greek yogurt, which now makes up about one-third of U.S. yogurt production.