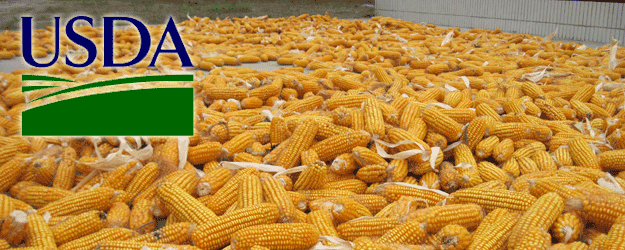 See all of the report data, coverage and analysis of the Aug. 12 World Agricultural Supply and Demand Estimates and Crop Production reports.
News and Analysis
Corn and Soybean Production Forecasts Shrink, Prices Increase
Corn prices increased in response to today's reports, but an era of higher soybean prices in relation to corn prices is still expected.
AgWeb Radio: Cllosing Commentary 8-12-13
Nate Smith of the Gulke Group explains the report and its results on the close at the market.
Which States Will Have the Highest Corn Yields?
According to the Aug. 12 Crop Production report, there will be some pretty good corn yields across the country. See where your state fits in.
U.S. 2014 Corn Inventories Less Than Expected on Heavy Rains
Reserves on Aug. 31, 2014, will total 1.837 billion bushels, down from 1.959 billion forecast in July, USDA says. Analysts surveyed by Bloomberg were expecting 2.013 billion, on average.
Corn Yields, Soybean Acres Key to Monday Reports
Watch how the market reacts to those factors in particular, U.S. Farm Report Market Roundtable guests say.
USDA: U.S. Forecast to Produce Record-High Milk Output
Milk prices to remain strong; record corn crop also expected.
Blog Commentary
Reports
WASDE
WASDE: Corn Production Lowered, National Yield Now At 154.4
WASDE: National Soybean Yield Forecast at 42.6
WASDE: U.S. Wheat Supplies, Exports Both Up
WASDE: Cotton Production Reduced to Smallest Size Since 2009
WASDE: Rice Yield Forecast Increased
WASDE: Red Meat, Poultry Production Up Due to Higher Beef Output
Crop Production
Crop Production: Corn Up 28%, Soybeans Up 8%, Cotton Down 25%
Aug. 12 Crop Production: Corn Area, Yield, Production
Aug. 12 Crop Production: Soybeans Area, Yield, Production
Aug. 12 Crop Production: Winter Wheat Area, Yield, Production
Aug. 12 Crop Production: Cotton Area, Yield, Production
Aug. 12 Crop Production: Sorghum Area, Yield, Production
Read what farmers are saying about the upcoming reports. See: Markets & Economy

Find out what traders and others are saying about the reports on Twitter: AgWeb's Market Tweets
 
See how the reports are affecting prices. Visit the AgWeb Markets Center.
---