Following the difficulties of last year, 2020 started with a positive outlook for the agricultural industry.
"People are more optimistic about the future of agriculture and future economic conditions on their farming operation."
That's how Jim Mintert, the director of the Purdue Center for Commercial Agriculture, referenced the January and February results of the Purdue University/CME Group Ag Economy Barometer as sentiments rose to an optimistic all-time high.
"A lot of that was probably tied to President Trump signing the phase one trade agreement with China and also the signing of the USMCA agreement," said Mintert.
An influx of demand was on the way and estimated to be roughly $40 billion.
Then COVID-19 hit.
"Approximately 61.3% of bank CEOs expect the coronavirus to produce a recession in their market area," says Ernie Goss, who chairs Creighton's Heider College of Business and leads the Rural Mainstreet Index (RMI).
The monthly survey of rural bank CEOs in a 10-state Midwest region plummeted to 35.5 in March 2020. In February, it was at 51.6. March's decline represents the largest one month drop since the survey was started back in January 2006.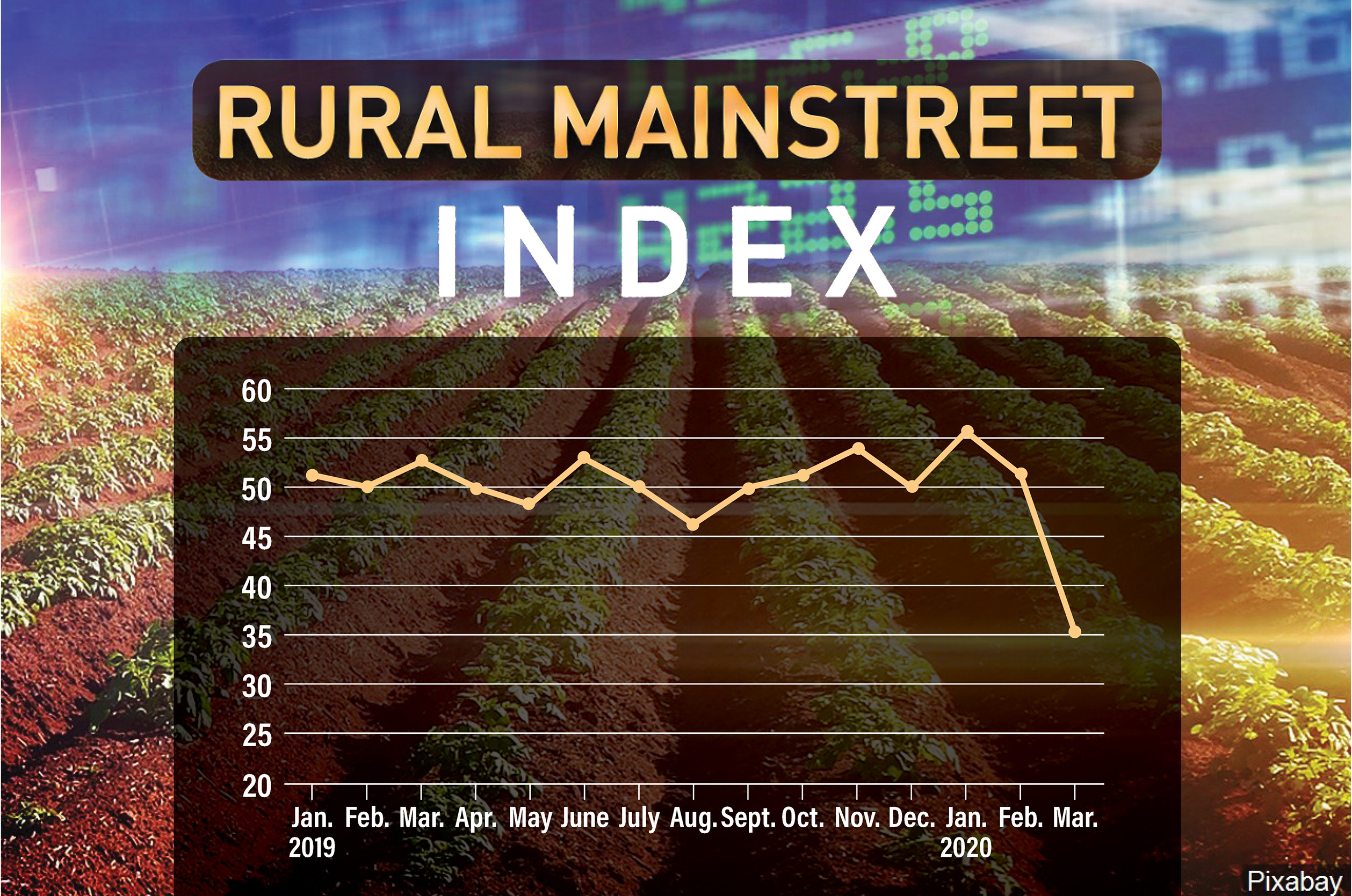 The index ranges between 0 and 100, with 50 representing economic growth neutral.
"The last couple of years people have been learning to adapt, they're surviving and many had an okay year in 2019," said Bill Johnson, President and CEO of Farm Credit Mid-America.
He says balance sheets looked okay going into 2020 but uncertainty is hard to manage.
"We spent a lot of time last summer talking about what transition plans were in place, how to work through these current economic challenges and I think that really paid off for farmers," said Johnson.
However since writing those early business plans the COVID-19 outbreak has all but frozen the global economy. The Federal Reserve slashed its key interest rate to near zero and also cut prime interest rates by a full percentage point. The last time the prime rate was cut this low was 2008. 
"The entire balance sheet on the liability side should be looked at from a rebalancing perspective," said Alan Hoskins, President at American Farm Mortgage. "I think it's a good time to take inventory, both of your current financing interest rates, as well as how your balance sheet is structured."
The Farm Credit Administration (FCA) is encouraging Farm Credit System offices to work with borrowers and operations impacted by COVID-19.
"We encourage institutions to use this flexibility to work with borrowers to lessen any stress and financial burden related to the disease and efforts to contain it," said Glen R. Smith, the FCA board chairman and CEO in a release on March 17.
The FCA recommends alleviating stress by extending the terms of loan repayments, restructuring borrowers' debt obligations or by easing some loan documentation or credit-extension terms for new loans to certain borrowers.
Regardless of what else happens in 2020, figuring out what's "normal" may be the biggest challenge.
"It's getting used to that 'okay' [financial] cycle that I think continues to be a challenge for most of agriculture," said Johnson.