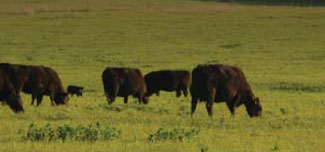 The nation hasn't seen such a small beef cow herd in decades. Now many producers who survived the recent drought are focused on rebuilding. The question is, how long will it take?

"I think this will start slow. It's going to take seven to eight years to rebuild. I think six to eight in the futures," says Chris Hurt, ag economics professor, Purdue University. 

Expect the expansion to start in the Northern Plains, Hurt notes. Beef cow numbers did not decline in that region in the past seven years.

"We have a lot of marginal land in that area, and now there is a profit incentive in that area. We see that shifting," Hurt says.

The western Corn Belt from Minnesota to Missouri lost 566,000 cows, which is 15% of the national reduction, Hurt explains. It has a good chance of rebuilding. The challenge is convincing producers to go back to cattle after turning to cash grain production for ethanol.

A third area prime for expansion is the Southeast, which took a 21% hit of the nation's total.
---
By Nate Birt
Drought Creep Might Limit Yields
As of early August, the U.S. Drought Monitor revealed dry conditions spreading beyond the southwestern plains into states such as Kansas, Nebraska and South Dakota. That might curb corn and soybean yields.

"Three weeks ago, conditions had been ideal to that point," says Matt Bennett, Total Grain Marketing, in an interview on the U.S. Farm Report Marketing Roundtable. "But at this point (producers are) realizing hey, we do need a rain, not so much just because they feel like the corn's really going to get hurt too bad, but obviously for the beans, and then for the corn it's probably taking the top end off of it a little bit."

Overall yields are still on track to be impressive, adds Ted Seifried, Zaner Ag Hedge Group. But it's hard to envision a scenario in which they will break as many records as some analysts have predicted.

"When I'm doing the state-by-state analysis, I have a hard time putting in a number above 170, 171 is about as high as I can get it," Seifried explains. "Our number currently is 168.9, so we're just shy of the 169 level." Still, states such as Illinois might see records. Bennett has heard of Illinois fields that should yield up to 250 bu. per acre.