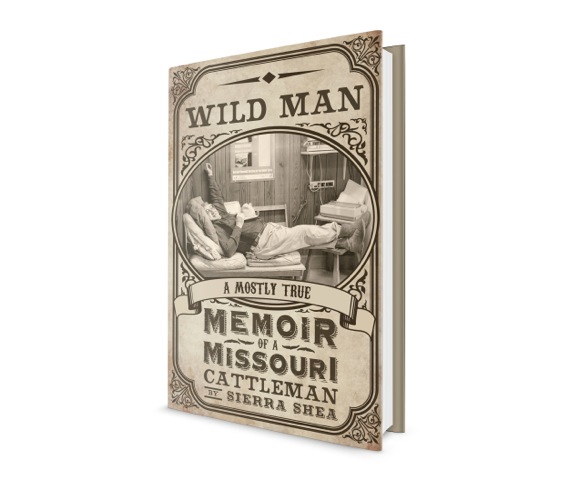 Sit back and travel to a time not long ago when one Missourian man's decision to take a chance on a cattleman's dream created seven generations of cattle entrepreneurs and countless mostly true, larger-than-life stories along the way.
Sierra Shea, author of "Wild Man: A Mostly True Memoir of a Missouri Cattleman", recounts her grandfather Luther Angell's stories in amusing fashion. From hilarious blind dates and animal-related pranks to triumphs and misfortunes, it weaves a rich tableau of the Angell family's livestock auction ownership and involvement in the beef industry.
Luther is the kind of grandpa every kid wishes they had, filling a room with laughter and astonishment with each story he retells. It would not be a cattleman's memoir without seven bar stories, half a dozen pranks and a couple big cow collisions. He pauses periodically to describe his lifelong romance with Joan, his Georgia-raised gal. Even in their fifth decade of marriage, Joan still struggles to rein in her cowboy and his endless jokes.
There are no ad nauseam chapters in this book, rather 50 short stories with over 100 photos from Luther and the Angell family that bring life and color to each story.
Copies can be purchased online on Sierra's website www.sierrashea.comvia the "Store" tab. To order by mail, include your shipping address and a check made payable to Sierra Shea at P.O. Box 93, Lake Preston, South Dakota 57249. Hardback copies are $25.00, shipping is $5.00 for the first copy and $2.00 for additional copies. All orders are shipped via USPS. 


Sierra Shea is the author of "Wild Man: A Mostly True Memoir of a Missouri Cattleman", "So God Made a Farmer's Wife," "So God Made a Ranch Wife" and "This is Charolais Country". She is the granddaughter of Luther Angell and lives in her hometown of De Smet, South Dakota, working as a farm wife and writer with her husband and new baby girl. A Missouri native, she began her passion for writing as a columnist for "The Cattleman's Advocate" as a sophomore in high school. Sierra is passionate about preserving the heritage of rural people and places by recording their stories. Sierra's work can be found online at www.sierrashea.com .