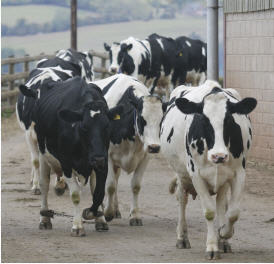 Drought in Australia and falling producer prices in Europe are starting to take the top off milk production gains.
Milk production in the world's exporting regions remains strong, but production concerns in some regions have started to surface, particularly in Australia and the European Union.
Looking at Australia first, November milk production was just over 1 billion liters, up 3 percent from year-earlier levels. Last season, Victoria—the country's largest milk-producing territory—accounted for two-thirds of total output in Australia, according to Dairy Australia.
"Through November, Victoria's milk production was running 3.2 percent higher compared to the same period a year ago," says Sara Dorland, analyst with the Daily Dairy Report and managing partner of Ceres Dairy Risk Management, LLC, Seattle. "At the same time Tasmania's milk production was outpacing last season's by a whopping 13.8 percent—the strongest season-over-season gain of all the territories."
However, milk production in Queensland and South Australia in November fell behind last season's pace by 6 percent and 1.9 percent, respectively. Through the seasonal peak, milk production in Australia was well above the previous season's output, but Dairy Australia forecasts only a 2 percent gain for the 2014-15 season compared with the 2013-14 season.
"Dairy Australia's forecast indicates that a significant slowdown in Australian output could lie ahead," says Dorland. "Indeed, lower projected milk paychecks and deteriorating weather conditions could justify an early end to the season for farms in western Victoria, southeastern South Australia, and northern Queensland."
In these regions, rainfall deficits over the past five months have moved into the "serious" and "severe" categories, according to an early December report released by the Australian Government Bureau of Meteorology. "Absent rainfall, farms could increasingly rely on irrigation to support pastures during the second half of the season," says Dorland. "And that will greatly increase their costs."
According to Dairy Australia, Northern Victoria's irrigation costs in October were running 44 percent higher than the five-year average. "That's a rather expensive proposition for farms facing lower milk prices," notes Dorland. "At the same time, the value of cull cows in Australia is 2 percent above the five-year average, a factor that could tip the scales in favor of an early end to the season should dryness persist or intensify at the start of 2015."
European gains slowing as well
Although milk production is dropping seasonally in Europe, output continues to be strong throughout much of the continent. In October, EU-28 milk production of 11.8 million tons (26.1 billion pounds) was 3.4 percent stronger than a year ago. While output in individual countries had eased from the 5 percent to 7 percent gains they had posted earlier in the year, says Dorland, the current pace of production is still nearly three times the typical year-over-year gains.  
"October marks the first month of 2014 that year-over-year output gains in the EU 28 have slipped below 4 percent—a possible signal that milk production gains could be slowing in Europe," notes Dorland. In October, the weighted-average milk price paid to EU producers was €35.20/100 kg ($19/cwt.), the lowest price of the year and well off the price paid a year ago.
"Similar to other milk-producing regions, lower milk prices in Europe could curtail milk production in 2015 as dairy producers look to cut costs to keep margins in the black—or at the very least limit the amount of time spent in the red."
To subscribe to the Daily Dairy Report, go to: http://www.dailydairyreport.com/default.aspx and click register