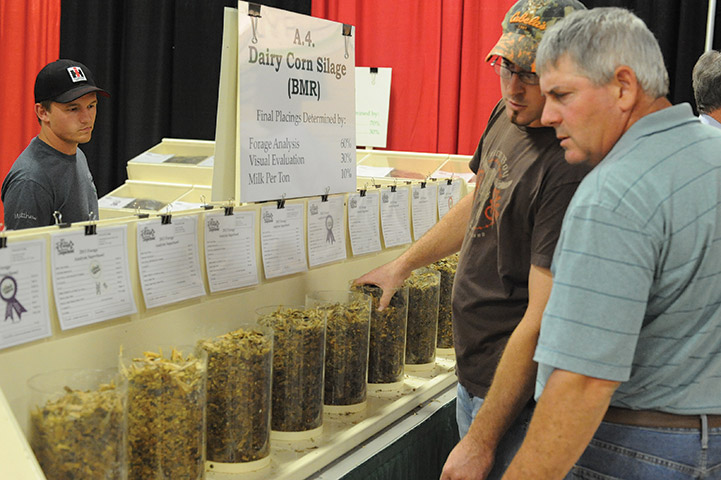 Wisconsin forage testing lab plays key role in World Forage Analysis Superbowl success.
Demonstrating the value of growing high-quality forages to dairy producers, nutritionists and forage growers is the primary goal of the World Forage Analysis Superbowl (WFAS), held in conjunction with World Dairy Expo for the past 31 years.
"Coming to World Dairy Expo and viewing the top samples from the contest (on display in the Arena Building throughout Expo) gives people an appreciation for the important role forages play in a dairy's nutrition program," says Doug Harland, laboratory manager for Dairyland Laboratories Inc., in DePere, Wis.
For the past two years, Dairyland Labs has played a major role in the WFAS by analyzing the 300 to 400 samples, from two dozen states, submitted to the contest annually. Results from the analysis account for 60% to 70% of the final score in determining winners in each of the contest's seven categories—dairy hay, grass hay, commercial hay, haylage, baleage, standard corn silage and brown midrib corn silage. The other 30% to 40% of the score is based on a visual inspection of the forage conducted by forage specialists from the University of Wisconsin.
The WFAS exhibit in the Arena Building during Expo features samples of the top 10 to 20 samples in each of the categories. "The display is set up so people can look at the samples, and touch and smell them too," Harland says.
Also provided with each sample is a summary of the analysis results and other background production information. "So you can see what variety was used and get some idea about the area where the sample was grown. We also have people on hand throughout the week to answer questions about the contest and forage testing in general," he explains.
Ready to learn

Another component of WFAS is a series of seminars, organized by the U.S. Dairy Forage Research Center in Madison, Wis. The sessions feature top-flight forage specialists from industry and Extension throughout the week on a stage immediately adjacent to the display area.
"Attending the seminars is a great way to learn about the latest trends in forage production, feed testing, dairy nutrition and more," Harland says.
Business can get rather hectic at Dairyland Lab's DePere laboratory when the deadlines for the contest entries approach—August for the corn silage categories, September for the hay categories.
"It gets to be quite a bit of work with so many samples coming in at once," Harland says. "But it's well worth it. From a business standpoint, participating in the contest provides exposure for our lab and what we're promoting in the industry."
"On another level, it's great to see firsthand the pride that producers take in the forages they're growing. It reminds all of us how important quality forages are in the dairy business," he adds.
To learn more about Dairyland Lab's involvement in WFAS, including entry details and contest rules, go to www.foragesuperbowl.org.
Why Growers Enter
Doing well in the World Forage Analysis Superbowl (WFAS) has become a habit for the Hinman family, including David and his wife, Teri, of Hardrock Farms, and their daughter, Kellie, of Lazy2K Livestock, in Wheatland, Wyo. Since they first entered the contest seven years ago, the Hinmans, who grow alfalfa on 750 irrigated acres, have won the Grand Champion Forage award, three Champion awards in the commercial hay category and a quality counts award.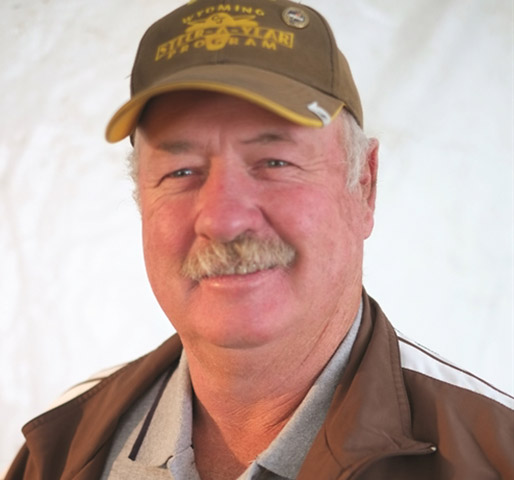 David Hinman
---
"Being in the contest is a way for us to benchmark the progress we're making with our production," Hinman says. "I like to plant different varieties and see how they perform under a variety of conditions. Each year, we can assess results, determine how we're doing and figure out what we can do better."
The Hinmans also benefit from a marketing standpoint. "We've been able to make some very good connections with dairy producers in the Midwest because they saw our hay at World Dairy Expo. Last year, we shipped 60 semi-loads to Iowa. If we hadn't been in the contest, I don't know if those buyers would have known about us and the kind of high-quality hay we can produce."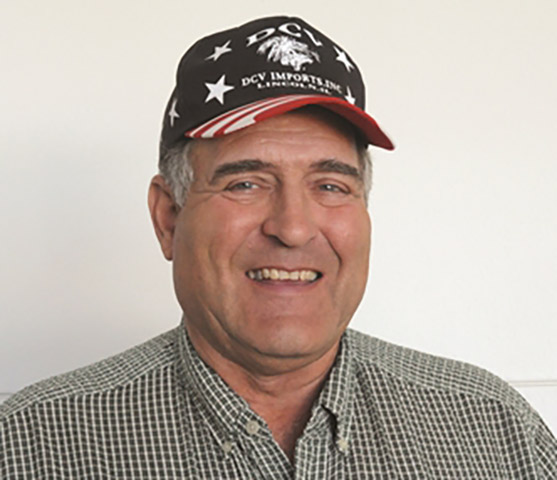 Kendall Guither
---
Still learning. Walnut, Ill., baleage grower Kendall Guither has also racked up an impressive string of WFAS wins in the 15 years he's been entering the contest. That includes earning Champion Baleage three times.
"It's a great way to advertise your product," says Guither, who grows alfalfa on 385 acres. His main markets are dairies (both cattle and goats) in Illinois, Iowa and Wisconsin "When you do well in the contest, it lends credence to your business. People look at you and say, 'Hey this guy knows what he's doing when it comes to putting up quality forage.'"
Attending the WFAS awards luncheon, sponsored by Mycogen Seeds, offers Guither an opportunity to exchange information with other growers. "I usually pick up an idea here and there about something I might want to try. And I can let others know what I'm doing. It's a great learning experience," he says.
Being in the contest, "helps keep me focused on doing the very best job I can," Guither adds. "It helps me see how I'm doing compared to some of the very best forage growers in the country. Bottom line, it's fun, and it's interesting."