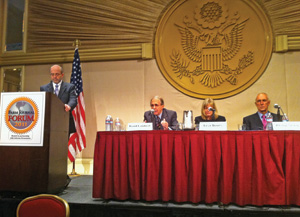 By Roger Bernard and Charlene Finck
The Farm Journal Forum drew VIP speakers and attendees to examine hunger solutions and policy moves
From the opening newsmaker breakfast to the final panel, the Farm Journal Forum had an electric feel to it, with an energy matched by the top-level folks who addressed the crowd. Held just two blocks from the White House, the event brought together farmers, agribusiness executives, lawmakers and hunger relief advocates to discuss critical food and farming issues.

The Forum focused on "Securing Global Food Security with Sustainability"—a topic with wide-ranging tentacles that touch our industry from all sides. Food and farming are intrinsically interwoven, something that doesn't always meet the eye.

"We need to build the relationship between hunger and farm policy," explained Lisa Davis, vice president of public policy for Feeding America. "Both agriculture and the hungry need to be protected."

Presenting sponsor of the December event was the Howard G. Buffett Foundation in association with Farmers Feeding the World. Here is a rundown of what the attendees learned.


Senate Agriculture Committee Ranking Member Pat Roberts (R-Kan.) kicked off the event by giving an update on the issues facing Congress. Roberts isn't pleased with the behind-closed-doors process of putting together a farm bill, especially because the details of the plan have yet to be released.

"We've had a farm bill that wasn't and a super committee that wasn't so super," quipped Roberts, while calling for open hearings as the next step in the development of the new farm bill.

Perhaps what evoked the most passion from Roberts was the unfolding saga of the MF Global bankruptcy. He expressed frustration at the apparent disappearance of up to $1.2 billion in customer funds. It won't be easy for former MF Global chief Jon Corzine, who also served as a U.S. senator alongside Roberts, not to answer questions from senators as they work to get to the bottom of the MF Global meltdown.

Setting the economic stage, Bruce Scherr, CEO of Informa Economics, talked in depth about commodities prices and what they mean to the food and agriculture industries. "This is a different world," he said. "Commodities have achieved an asset class."

Overall, Scherr predicted that the U.S. economy will continue to chug along at a very moderate growth rate, while parts of Europe might slip back into recession.

Making his fifth appearance at the Forum, former U.S. Secretary of Agriculture Dan Glickman is now a co-chair of a new organization called AGree. The group describes itself as a bold new initiative designed to transform long-term agricultural, food and rural policy issues. Funded by nine of the world's leading foundations for at least eight years, the organization has the attention of many who wonder and worry about what the policy transformation will entail.

"We used to talk about keeping non-ag out of our sandbox," he admitted. "Those days are over."
He shared that AGree, which is still in its infancy, has three priorities: improving ag productivity, food security and environmental performance here and abroad; enhancing the availability of access to nutritious food; and promoting opportunities for rural communities to succeed.

"It's not an attack on the status quo," Glickman explained, adding that the group wants the industry to get past just going from one farm bill to another.

He was quick to point out that there is a fire wall between AGree's funding foundations and the group's mission. At the same time, the organization is relying on "best-in-class research to direct policy recommendations that elevate the world of food and agriculture to the level it needs to be," Glickman said.

In addition to Roberts, Senate Agriculture Committee Chairwoman Debbie Stabenow (D-Mich.) also addressed the crowd, walking them through the behind-closed-doors farm bill process. She noted that the top leaders of the two ag panels "were all involved" in the process as much as they wanted to be and other members of the panel were also briefed on the process.

Moving forward, Stabenow said, she plans to use the farm bill package, which would reduce spending for programs under the committee's control, as the "blueprint" for a more open, regular farm bill process, starting in January.

On individual farm bill issues, Stabenow noted there is no longer support for continuing the $5 billion in direct payments, but there is widespread support for crop insurance. She acknowledged that different regions of the country present challenges in the formulation of farm policy.

As for MF Global, Stabenow pledged that the committee would investigate what happened at the firm and return funds to customers, which have been estimated at $600 million to $1.2 billion. She noted that MF Global's bankruptcy, the eighth largest in U.S. history, has impacted farmers, ranchers, cooperatives, grain companies and elevators.
Hunger and food security. Hunger is a complicated issue with no quick fix, but that isn't stopping the Forum's luncheon keynote speaker, farmer and philanthropist Howard G. Buffett, from devoting his namesake foundation and much of his time to putting an end to the problem. Buffett, president of the Howard G. Buffett Foundation, shared his passion for fighting hunger and increasing agricultural productivity around the globe.

Buffett told the crowd that he farms 14,000 acres in Illinois, Arizona, Nebraska and South Africa. Each of those acres is devoted to fighting hunger—whether it is growing crops for proceeds to be donated to nonprofits dedicated to feeding the hungry or to research ways to increase sustainable food productivity.

Like all farmers, Buffett knows that soil productivity is a building block for yields and is one of agriculture's most important assets. Knowing that and witnessing soil erosion in the U.S. has kept him keenly focused on protecting the soil as a weapon in fighting hunger.

"Soil loss is an economic and production problem now, but someday it will be a food security problem," he said.

As a farmer devoted to philanthropic efforts that follow the "hand-up" approach, Buffett believes that production systems must be developed specifically for farmers in other regions of the world. His farm in Africa is not only using the latest technology available in North America, but also developing systems that use oxen instead of tractors because not many farmers in Africa have the means to purchase machinery. Research dedicated to discovering systems that work is critical, he said.

In closing, Buffett invited farmers to engage in fighting hunger. "A farmer would never allow a neighbor to starve, but the truth is, that's happening," he said. "We [the agriculture community] have a responsibility toward a food-secure world and hunger-free America."

With politics figuring heavily into the food and ag equation, Informa Economics' Jim Wiesemeyer walked the audience through the politics and policy in Washington. Debt reduction figures heavily in the process. Lawmakers drafted a farm bill that would cut $23 billion from farm and nutrition programs, an effort that would end direct payments and a couple of other programs and replace them with a government-delivered program that would provide a revenue-based product to cover shallow losses (a compliment to the current crop insurance program).

As outlined by Stabenow, the many conservation programs and even nutrition programs would be trimmed down. But this would likely be on the administrative side and not in the actual benefits provided to recipients of the programs, Wiesemeyer said.

Despite the challenges facing law-makers, he predicted, "leaders will lead" and eventually set a path to provide a more sustainable future.

Following Wiesemeyer, the Forum hosted Ranking Member of the House Ag Committee Collin Peterson (D-Minn.), who called for the release of the farm bill language, the dairy portion in particular. He also echoed the sentiments of Sens. Stabenow and Roberts on MF Global and called for answers. Peterson said he was preparing legislation that would reset the financial rules to those in place in 1968 as a way to address what happened.

A panel that included Kent Lanclos of USDA's Risk Management Agency, Sam Willett of the National Corn Growers Association and Ferd Hoefner of the National Sustainable Agriculture Coalition shared priorities for the new farm bill. Risk management and conservation programs topped the list.
Challenges and solutions. A crowd-pleasing panel closed out the day by addressing the global stress points and solutions for food security. To start things off, David Lambert of Lambert Associates briefed the crowd on the growth in population, water needs and more.

From the domestic side, Davis of Feeding America said that demand at U.S. food banks has grown 46% from 2006 to 2010—and is continuing to grow. The Supplemental Nutrition Assistance Program, formerly known as food stamps and under USDA's purview, needs to be reauthorized via the farm bill. "Efficiency will be a code word used by lawmakers for cuts" to the program, Davis said.

Phil Seng of the U.S. Meat Export Federation pointed out some of the alarming trends he has observed in his years working to expand U.S. market share around the globe. "In Japan, they throw away more food than they produce," he said. In India, "over 40% of fresh produce is destroyed."

Food safety standards are key, Seng added, along with a rise in private standards. "The ceiling had been government-based standards. Now they are considered the floor," he said.

The panelists urged those present at the Forum to get involved at any level, be it local, national or even global. As the attendees headed out the door into a warm Washington evening, they were equipped with plenty of tools and information to help in securing the needs of a growing population. At the heart of it all lies agriculture—a common thread providing the food and fiber for a vibrant world.
---