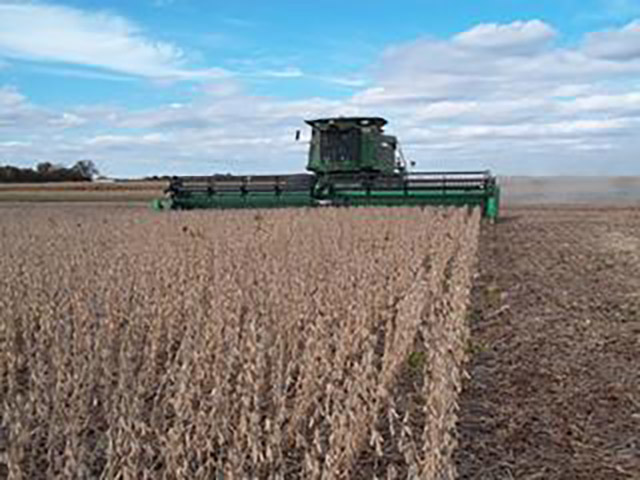 Corn and soybeans were little changed near four-year lows in Chicago on speculation that global supplies will be ample as U.S. farmers begin harvesting their largest crops on record.
Seven percent of corn crops and 3 percent of soybeans were harvested in the main U.S. growing areas as of Sept. 21, the latest U.S. Department of Agriculture data show. The Midwest will see a warming trend through early next week with limited rainfall, aiding harvest progress, forecaster DTN said. U.S. production of corn and soybeans may reach records at 14.395 billion bushels and 3.913 billion bushels, respectively, the USDA estimates.
"Weather remains ideal for late maturing crops and great for those that are harvesting," Matt Ammermann, a commodity risk manager at INTL FCStone, said in an e-mailed note today. "The market is now in a wait-and-see mode to see how yields are."
Corn for December delivery rose 0.2 percent to $3.26 a bushel at 4:26 a.m. on the Chicago Board of Trade. The price touched $3.2475 earlier today, matching yesterday's intraday level that was the lowest for a most-active contract since June 2010. Soybeans for delivery in November were unchanged at $9.3625 a bushel, after touching $9.31 yesterday, the lowest since July 2010.
Wheat for December delivery was 0.1 percent higher at $4.765 a bushel. Futures touched $4.695 on Sept. 22, the lowest since June 2010. In Paris, milling wheat for November delivery dropped 0.3 percent to 149.75 euros ($192.38) a metric ton on Euronext.
Farmers in the U.S. planted 25 percent of winter wheat as of Sept. 21, up from 12 percent a week earlier, USDA data show. World production will rise to 719.95 million tons in the 2014-2015 season, the highest ever, the USDA said Sept. 11.
Wheat "may come under pressure from a good U.S. weather outlook and sowings running ahead of schedule," Australia & New Zealand Banking Group Ltd. said in an e-mailed note today.